Let's just say that six-term U.S. Rep. Gus Bilirakis does not have a track record of using his seat in Congress to promote legislation addressing key issues affecting women.
The Republican congressman from Florida's 12th District, near Tampa, has voted against reauthorizing the Violence Against Women Act (VAWA) in 2013 and the Lily Ledbetter Fair Pay Act in 2009, for example. And he didn't want to give tribal courts authority over sexual assault and intimate partner cases involving non-Native American defendants, according to ThinkProgress.

But it's campaign season, and Bilirakis needs women voters to defeat Democratic challengers and win a seventh term. So, he organized a "Women's Summit" featuring breakout sessions on gardening, weight loss, and financial planning, among other topics, the Tampa Bay Times reported. A flyer for the event is set in a dark, pink background (although the small, white font is nearly impossible to read).

Keynote speaker Judy Genshaft, president of the University of South Florida, also will share "the secrets of her success," which presumably will not include tips about how to prevent early-blooming flowers from freezing during climate change-induced season creep.

According to the Times, Bilirakis and team got the idea for summit topics from a women's stakeholder session he hosted four years ago, after he voted against reauthorizing VAWA.

G/O Media may get a commission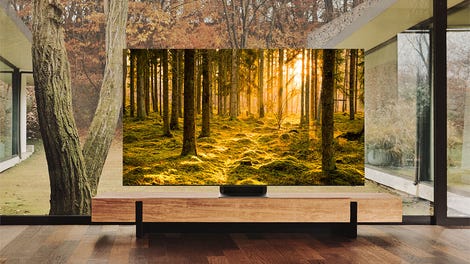 Up to 40% off
Samsung Smart TVs
"I try very hard to allow ideas and agendas to be driven by the people I serve," he told the newspaper. "I've always said the best ideas come from the people."

Former federal prosecutor Chris Hunt, a Democrat hoping to challenge Bilirakis on Nov. 6, called the summit "a shameless election-year stunt."
"He uses his congressional power to vote against women & then hosts a summit that patronizes women. Is Gus using taxpayer money for a thinly-veiled campaign event?" Hunt tweeted.
Another Democratic challenger, criminal defense attorney Robert Tager, noted on Facebook that, "It is interesting that after 12 years as a congressman and a decade as a state representative, Bilirakis is making his first attempt to reach out to women through his first 'Women's Summit.'"

He added: "After voting consistently to restrict women's reproductive choice, voting against the Lilly Ledbetter Fair Pay Act of 2009, equal pay for equal work, The Re-Authorization of the Violence against Women Act, against CHIP, SNAP, and free contraceptives for women, he now wants to act like he recognizes women as humans."

According to the Times, at the end of March, Bilirakis had raised $978,000 for his campaign, compared to Hunter's $243,000 and Tager's $23,000.