Want to light up a spliff? Don't do it in Florida — or at least be careful.
A new analysis of marijuana arrest data found that Florida led several other states in citations per capita.
The analysis, by the investigative website MuckRock, compared Florida's citation data to similar figures in Texas, California, Arizona and Vermont, controlling for the population of each state.
Florida far eclipses its peers, even those with large populations, such as Texas and California.
Floridians had the opportunity to legalize medical marijuana in November, but a ballot measure failed to capture the 60 percent threshold necessary to gain approval. The pro-cannabis crowd will likely try again in 2016, however, since younger voters tend to turn out for president elections in larger numbers.
G/O Media may get a commission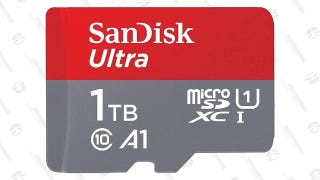 Save $75
SanDisk Ultra 1TB MicroSDXC Card
Florida's marijuana policy might even factor into the next presidential race. Former Florida Gov. Jeb Bush — considered a top candidate for the Republican nomination in 2016 — has admitted he smoked pot in high school (a former classmate recalled getting high with him and listening to Steppenwolf, according to a Boston Globe story on Sunday).
Bush opposes legalizing the drug, however, and his stance has opened him up to attacks from Sen. Rand Paul (R-Ky.), a libertarian in favor of lessening sentences for marijuana offenses.
Paul slammed Bush when speaking with conservative television host Sean Hannity on Monday night.
"I think it is hypocritical for very wealthy white people who have all the resources to evade the drug laws," he said. "Particularly in Jeb Bush's case, he's against even allowing medical marijuana for people that are confined to wheelchairs from multiple sclerosis."
Ted Hesson was formerly the immigration editor at Fusion, covering the issue from Washington, D.C. He also writes about drug laws and (occasionally) baseball. On the side: guitars, urban biking, and fiction.