A woman caught hurling vulgar, racist insults at a pair of Latinx men working to clear debris in the Southwest Florida city of Arcadia over the weekend has been confirmed as an parole officer with the state's Department of Corrections.

In a statement to Fox 4 News, the Florida DOC identified Tracy Keen as the woman seen in a cellphone video taken over the weekend, in which she is seen calling a FEMA contractor working to clean debris a "fucking Mexican." According to WGUN 9, the incident began after Keen was unable to pull her vehicle around the contractor's truck while he worked. The man and his son—who filmed the short video—both declined to identify themselves to Fox 4, but explained that they were shocked by Keen's behavior.
"I had to get it on tape because it was outrageous. I couldn't believe the stuff she was saying," the son said.
"She proceeded to call us names like F-ing Mexicans," he added. "We're just trying to clean up her street. Its completely demoralizing."
In their statement, the Department of Corrections affirmed that the Keen is a state employee with no prior complaints on her record, and promised action following the incident:

The actions of this individual are distasteful and uncalled for. Her behavior is in no way a reflection of the hundreds of probation officers around the state that work diligently to serve and protect Florida's communities every day. The Department is thoroughly reviewing this incident and will determine the appropriate action.
G/O Media may get a commission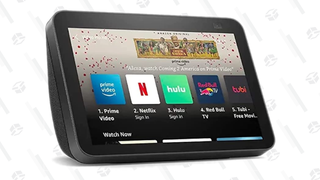 For the men at the receiving end of Keen's racist rant, however, the damage has been done.
"I've never really experienced this personally. When I saw it, it really shocked me," the contractor's son explained. "I'm so proud of my Mexican heritage. No person should be treated that way."