A 50-year-old Florida man is suing a local sheriff for mistakenly carrying out an Immigration and Customs Enforcement deportation detainer on him, when in fact the detainer was for a different man with the same name.
According to the Miami Herald, Peter Sean Brown, a U.S. citizen who was born in Philadelphia, was nearly deported to Jamaica, a country he had only been to once while on a cruise years ago.
Brown had turned himself into the Monroe County Sheriff's Office for a probation violation, but the next day ICE sent the sheriff's office a detainer asking for Brown to be held up to 48 hours after his due release. After appearing at Monroe County Court on April 26, Brown was placed on a bus to the Krome Service Processing Center, an immigration detention center in Miami.
According to the ACLU, which is representing Brown, he tried to tell the sheriff's office that they had the wrong man, but guards had this racist response:
Jail officers ignored him entirely. None of them helped him cancel the detainer or even looked into his claims, even though the jail's own records listed Peter as a U.S. citizen. Many officers even mocked him, telling him in a Jamaican accent that everything was "gonna be alright." Officers sang him the theme song to the TV show the Fresh Prince of Bel Air—"West Philadelphia born and raised"—after he repeatedly told them he was from Philadelphia and had no ties to Jamaica.
G/O Media may get a commission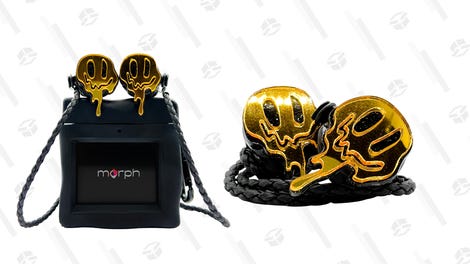 morph audio
Morph Earphones
The Herald wrote that when Brown arrived at the detention center, he was "hastily" released after agents agreed to look at Brown's birth certificate, which a friend of his had emailed them.
"Nobody should have to endure what he endured," the ACLU's lawsuit says. "He was kept in jail—away from his family, friends, and work—solely to facilitate his illegal deportation from the United States."
"The Monroe County Sheriff's Office does not comment on pending litigation," a spokesman for the office told the Herald.
1,480 Americans have been wrongly arrested by ICE since 2012, sometimes spending months or years in detention. But no one should have to go through the treatment Brown faced, undocumented immigrants included.