Five football players at a conservative Christian college in suburban Illinois are facing felony charges for allegedly brutalizing their younger teammate in a racially charged hazing incident in 2016.

A local judge set bond at $50,000 for the five Wheaton College students—James Cooksey, Kyler Kregel, Benjamin Pettway, Noah Spielman, and Samuel TeBos—who were charged with aggravated battery, mob action, and unlawful restraint late Monday, the Chicago Tribune reported. All of the students were listed on the team's roster as of yesterday.

On Tuesday, Wheaton, IL, police chief Jim Volpe called on the students to turn themselves in:
They are very serious charges. They are felony charges of aggravated battery, mob action and unlawful restraint, so the individuals will be answering to felony charges...we are giving them an opportunity to turn themselves in and we expect them to turn themselves in voluntarily very soon in a few days.
The Wheaton Police Department earlier this year refused to release records on the incident to the newspaper, but the Tribune obtained the victim's statement alleging how his teammates forced their way into the 19-year-old's dorm room on March 19, 2016, punched the student. and wrapped his legs and wrists in duct tape, despite his telling them to stop.

The players then allegedly put a pillow case over the student's head and removed him from the building—no fellow students intervened—and to the back seat of a player's car, where at least two of his teammates held him down. When the vehicle started moving, the victim said the teammates started playing Middle Eastern music and making offensive remarks about Muslims. They allegedly said that the student was being kidnapped by Muslims who wanted to have sex with goats and joked that he was their "goat" for the night. The student told investigators his teammates kept him restrained, pulled down his shorts and underwear, and repeatedly tried to force an object into his rectum.
G/O Media may get a commission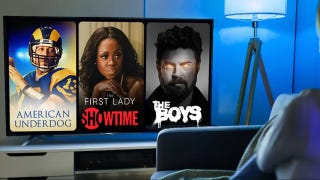 UNDER $1
99¢ Prime Video Channels
When the students finally made it to a baseball diamond, they allegedly left the freshman half-naked in the dirt and without his phone.
When officials at the school, which has a student body of around 4,000, heard about the attack shortly after from coaches and other members of the team, they launched an internal investigation but declined to say whether the players involved where punished of reprimanded in any way. Unnamed sources told the Tribune that several players were required to perform 50 hours of community service and write an eight-page reflective paper.

The Washington Post described Wheaton as "an elite evangelical college located in a suburban enclave of Chicago," whose students "are held to specific moral standards, signing a statement that they will not drink or smoke or engage in sex outside marriage." A student told the paper that the campus was "shell-shocked" by the allegations.
"The conduct we discovered as a result of our investigation into this incident was entirely unacceptable and inconsistent with the values we share as human beings and as members of an academic community that espouses to live according to our Community Covenant," Wheaton spokeswoman LaTonya Taylor said in a statement to the Tribune. "We are profoundly saddened that any member of our community could be mistreated in any way."