Operating a newspaper is hard work: there's the printing, the advertising, the collection of subscription fees. And the oddest problems come up, too.
For example, what do you do when people stop paying for your newspaper and there's a lumber shortage in the town that supplies your print stock?
The November 4, 1916 edition of The Mountain Echo newspaper (up for auction here) cracked the code—print the paper on a huge leaf and throw an immense amount of shade at your cheapo readers.
Editor Luther McQuesten sounds like he was a good dude. He worked at a Santa Cruz newspaper when he decided he'd like to edit his own and in 1914 he took over operations of The Mountain Echo, a small paper in Boulder Creek, a town known for its saloons, gambling joints, and "hotels."
Shortly after McQuesten took over, Boulder Creek faced a lumber shortage and—coupled with a subscriber base made up of people who lived in a town like Boulder Creek—he soon faced a dilemma: how to keep printing a newspaper during a lumber shortage while not bringing in any revenue. His ingenius solution: print the paper on leaves and call out all the "delinquent" subscribers who tried to fool him by choosing the Bill Me Later option.
G/O Media may get a commission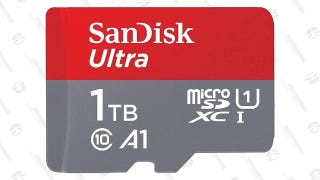 Save $75
SanDisk Ultra 1TB MicroSDXC Card
As if it needed to be clearer, under an "Editorial" heading, McQuesten unleashes on the deadbeat news junkies Boulder Creek. "Owing to the high cost of paper and the delinquency of quite a few subscribers" he's been driven to this drastic measure.
And don't act like this is the first time you're hearing about this. You were warned.
"An appeal, that was copied throughout the state, was made a year ago to delinquents."
Three subscribers paid McQuesten in advance, but that only brought in six bucks—not the $600 owed by 300 subscribers. He closes with one final plea/warning.
"Now a second year has rolled around and we are mad and have stopped sending papers to delinquents, and will get the money due if we have to sue for it."
With that out of the way, McQuesten can get down to brass tacks and what he was really there for: the news. There's an election Tuesday (Woodrow Wilson would carry California on his way to re-election). Beauregard Lipse had an operation and is recovering ("as if you even care" is heavily implied). Halloween went off without a hitch "free from [looks a lot like 'odiousness'] and vandalism, thanks to the efficiency of our constable." Also, the "Boom Club" raised $40 at its Halloween party and will throw another one before Thanksgiving.
Despite McQuesten's outright hostility towards his readers, The Mountain Echo managed to survive and remains a very affordable weekly paper that you can subscribe to. It is no longer being printed on a leaf.
David Matthews operates the Wayback Machine on Fusion.net—hop on. Got a tip? Email him: david.matthews@fusion.net