PARIS — Every Parisian, even expatriated New Yorkers like myself, has a corner café. It's variously your meetup spot, your second living room, your kitchen, your hideout and, if you work freelance as I do, your office.
Café des Anges, the Café of the Angels, has been my hangout since I moved to the lively Bastille neighborhood in 2007. The shabby-chic space, where classic Parisian mirrors and booths mix with posters for rock concerts and experimental theater events, is just across the street from my apartment on the rue des Taillandiers, a passageway crammed with vintage clothing shops, ethnic restaurants and hair salons run by tattooed cool kids. The coffee is bitter, the wine list is mediocre, and the food is solid. It's the lively vibe, the day-and-night energy, the everyone-and-his-grandmother crowd that makes the place so welcoming.
Staff and regulars have come and gone over the years, but even those who moved on to other jobs and neighborhoods left their mark. Nils, the young floppy-haired Danish-French manager, greeting you with theatrical bow and proffered hand. Khaled, the tall Tunisian-French bartender, pouring a glass of Cotes du Rhone before you've even taken your barstool. His sister Hodda, his spitting image, running about with a tray of burgers to deliver to customers. Blonde Lacri, slapping down espressos and scraping up change from the counter, all business. Dark-haired Michelli, all smiles, intoning "heyyyyhowareyou?" in her excellent Mexican-accented English. Former bartender Guillaume, the charmer who speaks fluent Italian, giving a sly wink as he chats up a girl at the counter. And most vividly Ludo, a stocky and cheerful Congolese hipster who has frequented the café even longer than I, shouting his favorite phrase from American hip-hop every time you enter: "Seth! Back that ass up!"
And most of those people I will never see again.
On Friday night, after attending a concert of Syrian Sufi musicians and dancers, a Moroccan friend and I were having drinks in a central Paris bar when we both began to receive text messages from friends and family all over the world. Where were we? Had we seen the news? Most importantly: Were we still alive?
G/O Media may get a commission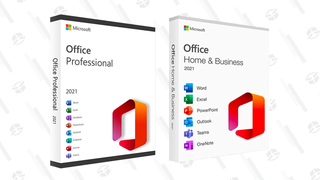 89% off
Microsoft Office Professional 2021 Lifetime License
I texted a fellow journalist friend, confused. She reported what she knew: suicide bombers at the big France-Germany soccer match and, scarier still, machine-gun massacres at Bataclan music club, La Belle Equipe restaurant and other popular weekend party spots. The horrors seemed concentrated in the 11th arrondissement—my neighborhood. The bar had no television or radio. Most of us were being fed information on our phones as the batteries weakened and conked out. Police and military patrolled the streets. After many fearful hours, everyone—young couples, groups of friends—cautiously dispersed for home.
On Saturday, I staggered out into the daylight and found Café des Anges closed. "Fermeture exceptionnelle," read a hand-scrawled sign. Other than a period of renovations, the café had never closed during my eight years living across the street. The next day, bouquets of flowers materialized in front of the doors. Two women arrived and placed tea lights on the ground. Bewildered, I contacted another café regular, who filled me in. The news was heartbreaking.
Ludo, Guillaume, Michelli, Khaled and several other longtime clients and staff had gone to a nearby café, La Belle Equipe, to celebrate Hodda's 35th birthday. Two members of the Islamic State, armed with Kalashnikovs, pulled up in a car and sprayed bullets into the crowd seated outdoors. Most of their group were killed, some immediately, some slowly on the pavement as their blood drained away. Khaled survived. Hodda and his sister Halima did not. They died as he and his brother tried to save them.
On Sunday, mourners poured out by the hundreds to leave flowers, candles, messages and other offerings in front of La Belle Equipe, where nearly 20 people ultimately lost their lives. I spotted Nils, haggard and crying, paying his respects. Other Café des Anges employees arrived and hugged for minutes in the street, seemingly afraid to let each other go. Two bullet holes perforated the window of the restaurant next door. Someone had stuffed flowers into one hole and hung a small medallion from the other. Decorated in the colors of the French flag, the medallion was marked by two hand-written words, "Tous Ensemble." Everyone together.
I knew and liked many of these people who perished at La Belle Equipe, but Ludo is the one that I knew best. He lived on the street next to mine, Rue Keller, and belonged to the same gym. But most of all he was an integral part of the Café des Anges crowd, a constant friendly face and reliable drinking pal.
Hilarious, generous, kind, he was passionate about soccer, street art and world travel. He could name all of the most famous and most obscure graffiti artists from New York in the 1970s and 80s, and he could give you restaurant advice about almost any city or country you wanted to visit. (We first became friends when he spotted me one afternoon at Café des Anges with a Lisbon guidebook in my hand. "Mon ami…tu vas ADORER Lisbonne!" he said enthusiastically, before offering the names of his favorite bars there.) If I ever walked into the café and didn't see him, I knew that he was working (he earned his travel funds as a network architect for FedEx) or journeying somewhere distant. Most recently he explored Southeast Asia, and I had looked forward to his tales and recommended addresses.
"Back that ass up!" someone shouted at me last week as I hustled past the café. Of course it was him. We shook hands as I rushed off to an appointment with a promise to have a drink soon. That was the last time I saw him.
I learned recently that Ludo died while trying to protect a young woman in their group of revelers. He hurled himself between her and the gunmen, absorbing the bullets that killed him. She remains in the hospital, unable to speak. Ludo, like many of our friends from the Café des Anges, sleeps with the angels.
I spend my days as I did 14 years ago in New York City after September 11: watching the news cycle ceaselessly, monitoring the names of the dead. The situation, though transposed to another language and continent, is sickeningly familiar. We all wonder now, as we did then, how to move on with daily life when the world seems suddenly darkened and different and confusing and ineffably sad.
And, somehow, we go on, dizzy but determined. As I'm sure Ludo and the others would like, the Café des Anges has reopened. Right now I can lean out my window and see crowds sitting at the outdoor tables drinking beer and sharing stories, like the old days—five days ago. In a few minutes I will join them.
Seth Sherwood is a freelance journalist living in Paris and frequently writes about travel for the New York Times.