Fordham University and the NYPD are investigating swastika graffiti and a "white supremacist reference" that was discovered in a bathroom at the school's Manhattan campus Wednesday night, according to the school's newspaper. There are currently no suspects.
University President Rev. Joseph McShane addressed the incident in a schoolwide email, calling it "a kind of terrorism" that the school "will continue to repudiate" and "rise above."
"We may never know what was in the mind of its author," McShane wrote, according to the Fordham Observer,  "but it is hard to overstate the perversion of someone who would casually embrace such a symbol."
McShane also expressed hope "that the person who committed this act this has a profoundly limited understanding of what they have done."
The Observer reports that it is the sixth such incident to occur at the school since 2012. In winter 2012, three incidents occurred in three months. There have already been two similar events this semester: The N-word was carved into a black student's dormitory door in September, and another swastika was found on a campus residence hall a few days later.
G/O Media may get a commission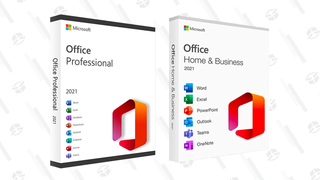 89% off
Microsoft Office Professional 2021 Lifetime License
This incident comes the same week as a national dialogue has erupted about protests over issues of racism and hate speech toward people of color at schools across the country.
At Yale, students, professors, and administrators are clashing over issues of insensitivity and free speech after an administrator's controversial Halloween email advice offended many students of color. At the University of Missouri, meanwhile, student protests over the school administration's lack of response to several acts of racism has led university president Tim Wolfe to resign. Wolfe has been replaced on an interim basis by retired law professor Michael Middleton, who is black.
Bob Howe, Senior Director of Communications at Fordham, told me that the administration would not be adding anything to the McShane's email.
Fordham University students are planning to hold a protest Friday afternoon at the Lincoln Center campus.
David Matthews operates the Wayback Machine on Fusion.net—hop on. Got a tip? Email him: david.matthews@fusion.net