The successful launch of President Obama's deportation relief plan is now in the hands of a federal judge in Texas—and immigration activists are fearing for the worst.
Republicans in Congress are pressing on with their effort to gut Obama's executive actions through a bill to fund the Department of Homeland Security. But Senate Democrats are expected to block the measure when it comes up for a key test vote today, leaving Republican lawmakers without a clear plan to go after the president's programs.
That leaves a legal challenge from 26 states as the biggest threat to Obama's actions, which could provide deportation relief and work permits to as many as 5 million people.
The judge handling the case, Andrew Hanen, could issue a ruling as soon as this week, advocates say.
"We both fear and anticipate he will rule against us," said Marshall Fitz, a former immigration lawyer who serves as vice president of immigration policy at the Center for American Progress.

G/O Media may get a commission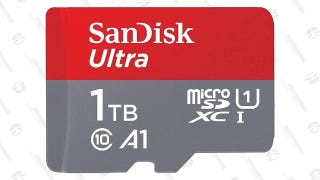 Save $75
SanDisk Ultra 1TB MicroSDXC Card
Why are people worried about this lawsuit?
Anti-immigration activist Barb Heller sets up signs on her truck during a protest in anticipation of buses carrying undocumented immigrants on July 15, 2014 in Oracle, Arizona (Sandy Huffaker/Getty Images).
The lawsuit, led by Texas Gov. Greg Abbott (R), argues that Obama's immigration plan exceeded his executive power and causes "irreparable harm" to states due to increased healthcare and education costs.
The states are asking for a preliminary injunction that would stop the president's programs from going into effect.
The deportation relief efforts already survived one legal challenge in a Washington, D.C., district court. But the states' lawsuit, filed in Brownsville, Texas, comes in friendlier territory.
Judge Hanen is a George W. Bush appointee who has expressed criticism of the Obama administration's immigration enforcement policies. In a December 2013 order, he ripped the Department of Homeland Security for delivering a child who was smuggled into the U.S. to her undocumented mother.
"This DHS policy is a dangerous course of action," Hanen wrote.
Fitz accused the state attorneys general who filed the suit, almost all of whom are Republicans, of "judge shopping"—or picking a court where they are likely to get a favorable result.
"You get the judge you want and often you get the decision you want," he said.
Although the states filed the suit in Brownsville, the judge assignment was random. Civil cases are split between Hanen and a Clinton appointee.
Hanen heard arguments in the case last month, but did not issue a ruling. On the venue, the office of Texas Attorney General Ken Paxton said in a statement that "Texas is uniquely qualified to challenge the President's executive order, and South Texas is at the epicenter of where border security is of concern for Texas and the entire nation."

If the judge rules against the executive actions, how will Obama respond?
If the Texas court issues a preliminary injunction, it could delay Obama's policies from going into effect.
Activists believe the administration will ask the Fifth Circuit Court of Appeals for an emergency stay if Hanen grants an injunction. That would suspend Hanen's ruling while the higher court decides the case, but the process could take several weeks.
The New Orleans-based Fifth Circuit is known for having a conservative bent, but immigrant advocates believe it could overturn Hanen's potential ruling.
"It would be really remarkable for any court … to rule on the basis of the law to say that Obama doesn't have the authority to do this," said Frank Sharry, executive director of America's Voice.
A coalition of 12 blue states, as well as police chiefs from 50 major cities have filed briefs arguing that Obama has the legal authority to decide who should be deported and who should not.
"We are very confident that the president's actions are fully compliant with the law and we are looking forward to implementing them, and those plans are well underway," Cecilia Muñoz, director of the White House Domestic Policy Council, told reporters Tuesday.

How would a delay affect the program?
President Barack Obama has long insisted his unilateral moves on immigration are legal (Alex Wong/Getty Images).
Any delay could make the deportation relief program harder to get off the ground.
Grassroots organizers around the country are already sketching out plans for how to enroll eligible immigrants. Putting the program on hold could discourage potential applicants from signing up.
U.S. Citizenship and Immigration Services (USCIS) is set to begin accepting new applications on Feb. 18 for one aspect of Obama's immigration plan, an expanded deportation relief program for young people who entered the country illegally or overstayed a visa.
Sharry said advocates "are feeling very confident" about the eventual outcome of the litigation, but fear legal wrangling could reduce the number of immigrants who decide to apply.
"What we're worried about is how it could be perceived by the immigrant community," he said.
Update, Feb. 3, 3:30 p.m. ET: This story was updated with comment from the Texas attorney general's office.
Jordan Fabian is Fusion's politics editor, writing about campaigns, Congress, immigration, and more. When he's not working, you can find him at the ice rink or at home with his wife, Melissa.
Ted Hesson was formerly the immigration editor at Fusion, covering the issue from Washington, D.C. He also writes about drug laws and (occasionally) baseball. On the side: guitars, urban biking, and fiction.