Over the last decade, "speakeasy" bars have flourished. You'll find them hidden in New York, San Francisco and LA down unassuming alleyways, behind false walls at the back of restaurants, or underneath signs that deceptively advertise more innocent businesses. You usually need to know a password if you want to sip fancy cocktails whose sweet ingredients invoke Prohibition-era drinks when bathtub-made alcohol needed to be drowned in sugar.
The speakeasy promises a return to a time when drinking was a subversive act, done in secret accompanied by the thrill-laced fear of police bursting through the door at any moment. But the modern speakeasy never really lives up to that promise. Sure, it's cool to be an insider and know a secret entrance, but once inside, it's just a normal bar where the only risk is the damage to your wallet at $15 per drink.
The new, true underground entertainment is the trespassing party, events organized by artists, actors or creative types who gather a group of interesting people in a location that is off-limits to the general public. We were recently invited to such an event. We found ourselves sneaking past private security guards, climbing through a hole in the floorboards of a condemned building, and going up a set of rickety stairs to a makeshift, but surprisingly elegant, bar where participants sang, played the piano and told stories.
The event's organizer seeks not just to illicitly entertain. He hopes to save a historic building slotted for demolition by throwing secret parties in it.

🙊🙊🙊
The email invitation was short and cryptic, with just enough information to set one's stomach aflutter with anticipation:
Eight o'clock SHARP. Meet at the hot dog stand. Flat shoes and layers. This invitation is for you alone and nobody else.
G/O Media may get a commission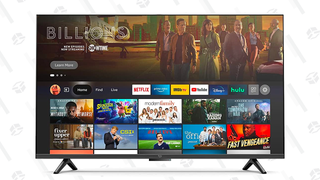 22% off
Amazon Fire TV - 50" Omni Series 4K - Early Access Deal
Said hot dog stand is on a rocky, one square-mile island in the middle of San Francisco Bay, accessible via the "Yerba Buena and Treasure Island" exit on the long bridge that connects SF to Oakland. A scattered group of about 20 people stood around it, exchanging side-glances, wondering if the others were in on the secret or just there for the spectacular view of the San Francisco skyline at night.
At 8 o'clock sharp, Eugene Ashton-Gonzalez appeared, a tall, gregarious man wearing a captain's hat and carrying a briefcase, which he used to collect participant's phones, amidst reluctant sighs.
"Phones are a distraction from being present in the experience," Ashton-Gonzalez told us later. "And confiscating them helps with the secrecy."
He led the group in a single-file line through underbrush, onto a deserted beach, and past uninhabited ruins. At points the group jogged when crossing roads, for fear of being spotted by the island's private security force.
Ashton-Gonzalez easily followed a poorly-marked trail on a steep hill in pitch darkness, not only because he's spent the last year familiarizing himself with the walk, but because he's no stranger to orchestrating just this kind of performance experience. As the founder of Eat my Heart Out Supper Club, a series of storytelling dinners where courses are based on stories performed at the table, he has transported audiences to new places for the last seven years, but this adventure is different in one very key way: it's entirely illegal.
As we reached the top of the hill he reminded us to keep our voices to a whisper. The group's turned its boiling anticipation down to a simmer for the final approach to its destination: The Signal Room.
It's a modest wood building at the apex of the island. Built in 1917, it heralds back to the island's time as a military outpost. After serving as a look-out for the Navy during World War II, it was condemned after the 1989 earthquake. It's slotted for destruction in May as the once-military island is being redeveloped for public-private use. The tower is chained and boarded up, and seemingly forgotten, but Ashton-Gonzalez points us towards a hole in the floorboards and we crouch and climb in one by one.
The top floor of the tower proved well worth the journey: there is a makeshift-bar with glassware, two pianos, and an unparalleled 360-degree view of the bay. The clandestine party is free but participants are asked to bring a bottle of gin or bourbon. A bartender put their offerings to work. Drinks were poured, stories told, music played, and twenty strangers became friends.
There is a strong precedent for this kind of illicit theater in San Francisco. Throughout the eighties and nineties, an anarchistic collection of 'culture jammers' calling themselves the Cacophony Society staged performances in the form of treasure hunts and rogue picnics throughout the city. The group's most popular annual event was a solstice party in the Black Rock desert where an effigy of a man was burned. That event, Burning Man, has since gone mainstream, attracting San Francisco's creative types along with its high-earning techies.
But there's been a more recent renaissance of secret societies and immersive, pseudo legal events in SF. The Boxcar Theatre successfully recreated an age in which vice was illegal with its immersive play The Speakeasy. The Latitude Society, which recently shut down amidst angry cries from its members, was an elaborate puzzle game come secret society set in undisclosed locations throughout San Francisco. These secret, and sometimes illegal, projects invite their audiences to commit a transgression, leaving them with a very strong bond to the event and to each other.
In writing about the city's newly-thriving underground art scene, San Francisco writer Gary Kamiya called the current incarnation more user-friendly than Cacophony Society's hard-edged and confrontational pranks of the past. Kamiya sees the underground's resurgence as a reaction against our screen-addicted present:

The new generation [is] motivated by a quest for community—one that's driven by the brave new world of Instagram, Flickr, and Tumblr but is also a reaction against it. Today's all-pervasive electronic communication facilitates the underground and allows it to be documented. But primary experience, not documentation, is what the underground has always been about. And climbing into an abandoned building or consuming a communal feast is about as non-virtual an experience as you can have.
"They're about developing a sense of wonder and the intimacy of well-timed surprises," Ashton-Gonzalez told us. "It has a lot in common with the stagecraft of magicians."
Ashton-Gonzalez calls himself a "trans-media creator." He worked for a time as a video game developer. "I thought it was my dream job, but I found it stultifying," he said. He realized he wanted to develop experiences in the real world, not do something that kept people in front of a screen.
He went to his first trespassing party in 2011 when he was living in New York. "We met at a Mexican taco joint and asked the bartender for a 1000-year-old egg. He handed us a fortune cookie that told us to 'Follow the rainbow road,'" he said. That clue sent them on a path that ended in a maintenance tower at the top of the Williamsburg Bridge. Soon, transgressive entertainment was part of his job. He started working for a company called Sextant.works, whose business model is to create immersive, experiential events that often involve taking participants to places they are not legally sanctioned to be.
When Ashton-Gonzalez moved to San Francisco in 2012, he knew he wanted to create his own trespassing party—but he needed a location. He found the Signal Tower listed on Atlas Obscura, a blog that chronicles the world's "most wondrous places," which noted that the tower had been deemed unsafe and that its fate was unknown.
It took nearly a year for Ashton-Gonzalez and a team of collaborators to make the building functional. They managed to sneak a generator into the building, renovate water-logged floors, tar its roof, and lug two pianos up its stairs without local security guards catching them in the act. With the wind that whips by, and the height of the tower, it's amazingly well-insulated sound-wise.
Ashton-Gonzalez started taking groups of his friends up in May of 2015. After the visit, he tells participants they can nominate a friend for an invite.
"At first, people were like, 'You're insane. You're going to get arrested and get my friends arrested,'" he told us. Still the nominations flowed in. He's taken about 1,000 people up the tower, all of them sworn to be discreet about the illegal excursion. But now Ashton-Gonzalez is ready to let the world in on the secret, because he needs its help to save his venue.
The entirety of Treasure Island is slated for a massive redevelopment that would bring up to 17,000 new residents to the island over the next 20 years. One of the first steps in that plan is to level the Signal Room. So Ashton-Gonzalez launched a campaign to save the tower on Facebook. He hopes public pressure will lead to the building being deemed a historical landmark.
"I'm driving an argument for a building that can't speak for itself. The only way to fight the demolishment is to make this public," he said. As for the consequences for his Signal Room parties, "I'm going to hold my breath and see what happens."
At a time in San Francisco when arts spaces are facing soaring rents and artists themselves are getting displaced, the city is ripe for this: protest itself as a work of art. Instead of working up a proposal for a theoretical transformation of the tower into an art gallery, Ashton-Gonzalez has shown the city what could exist there. Now he's hoping that the audience he built will work to save the space. The Facebook group 'Save the Signal Room' has about 200 members and continues to grow. Its ending is left up to the audience.
Cara Rose DeFabio is a pop addicted, emoji fluent, transmedia artist, focusing on live events as an experience designer for Real Future.
Kashmir Hill is the editor of Fusion's Real Future. She has hacked a stranger's smart home, lived on Bitcoin & paid a surprise visit to the NSA's Utah datacenter, all while trying to prove privacy isn't dead yet. Contact her at kashmir.hill@fusion.net. PGP: D934E5E9.