Julián Castro, the former secretary of housing and urban development under President Barack Obama, has been in the Democrats' national spotlight since delivering a keynote speech at the Democratic National Convention in 2012.
On Saturday, Castro, 44, who also served as mayor of San Antonio, TX, confirmed his presidential aspirations by announcing—in both English and Spanish—that he will seek the Democratic nomination for president.

Castro, the grandson of an immigrant grandmother from Mexico, was raised in San Antonio by a family deeply involved in advocating for the empowerment of the country's Mexican American community. His twin brother Joaquín, a Democratic congressman and chairman of the Hispanic congressional caucus, will serve as chairman of Julián's presidential campaign, The New York Times reported.

Joaquín said he would grow a beard if his brother is elected, MSNBC reported.
"I'm running for president because it's time for new leadership, because it's time for new energy and it's time for a new commitment to make sure that the opportunities that I've had are available to every American," Castro said while announcing his bid at San Antonio's Plaza Guadalupe.

G/O Media may get a commission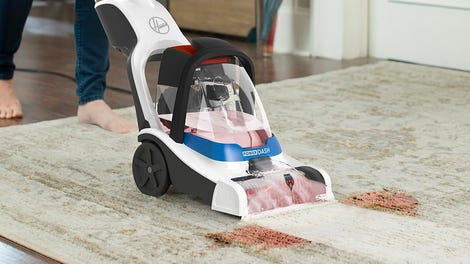 26% Off
Hoover PowerDash Pet Compact Carpet Cleaner
"We're going to make sure that the promise of America is available to everyone in the 21st century," he added. A crowd of supporters responded with chants of "Julian! Julian!"

Castro's intention of running in the 2020 presidential race will undoubtedly add a positive influence to the debate among potential Democratic contenders, who so far have been criticized for being a tad underwhelming in terms of energizing voters.
According to the Times, Castro's first campaign stop will be Puerto Rico. He will then head to New Hampshire, after previously visiting Iowa and Nevada.

"When my grandmother got here almost a hundred years ago, I'm sure that she never could have imagined that just two generations later, one of her grandsons would be serving as a member of the United States Congress and the other would be standing with you here today to say these words: I am a candidate for president of the United States of America," Castro said on Saturday.

Castro is an outspoken critic of Trump's anti-immigrant hysteria, mocking the president over his recent visit to the U.S.' southern border.

"He called it a national security crisis," Castro said, according to the Associated Press. "Well, there is a crisis today. It's a crisis of leadership. Donald Trump has failed to uphold the values of our great nation."

He emphasized the legal right of migrants to seek asylum in the U.S., and blasted the Trump administration's previous policy of separating migrant families at the border. "There is no way in hell that caging babies is a smart or a right or good way to do it," Castro said.
He also spoke out against Trump's phony border wall.

Castro's announcement followed comments on Friday by Rep. Tulsi Gabbard, 37, an Iraq war veteran from Hawaii and the first Hindu member of Congress, who said she also will seek the Democratic nomination for president.

In late December, the Times reported that Sen. Elizabeth Warren, 69, had become the first major candidate to formally seek the Democratic nomination. Several others are expected to join the race, including Sen. Kamala Harris and a whole bunch of white guys.