A former Navy surgeon has offered to perform gender confirmation surgery free of charge for transgender service members affected by President Trump's ban against them serving in the military.
Dr. Christine McGinn, who is also transgender, told CNN that she would perform the surgery at her Pennsylvania practice. "If the commander-in-chief won't take care of our veterans, our veterans will," McGinn said on Saturday. "I will do the surgery for free on the number of people that I have already lined up for surgery."
The plastic surgeon specializes in gender confirmation surgery. While in the Navy, McGinn was named a senior flight surgeon and in 2000 was nominated to be flight surgeon of the year — the same year she began her transition.
McGinn's criticism of Trump's ban echoed that of activists and fellow trans veterans: the cost of providing healthcare for trans service members pales in comparison to the Defense Department's annual budget. The military spends more on viagra every year than it would if transgender people were allowed to serve openly.
G/O Media may get a commission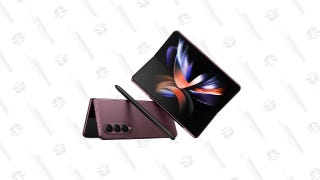 Save Up to $300
Galaxy Z Fold4
"The estimated cost per year, per the Rand study, is $2.4 to $8.4 million per year," McGinn said. "If you think about that in comparison to what is spent on healthcare for the entire military, $49 billion, I think it's being twisted and spun to make it seem like it would be more than it is."
McGinn also characterized Trump's decision as "obvious discrimination" and compared the ban to the military's prejudiced history of preventing people from serving.
"I think that this sounds a lot like when we had people of color who wanted to serve, women, or gays and lesbians who wanted to serve," McGinn added. "I think any fifth-grader could see that."
For the time being, it doesn't seem like the military is characterizing Trump's Twitter trans ban as an order. Just a day after Trump made his announcement, the Chairman of the Joint Chiefs of Staff, General Joseph F. Dunford, issued a statement declaring that there would be "no modifications to the current policy" until Trump's order is reviewed by the Secretary of Defense.