A twice-failed Arizona Republican political candidate is going to extreme lengths to get elected this year; he legally changed his name to share one with famed Hispanic labor leader Cesar Chavez.
The office-seeker, Scott Fistler, lost a write-in bid against Rep. Ed Pastor (D-Ariz.) in 2012. Victory escaped him last year too in a race for a Phoenix city council seat now occupied by Pastor's daughter, Laura. Fistler is gunning for the elder Pastor's seat yet again, but under his new name. The Arizona Capitol Times reported Monday that Fistler successfully petitioned a state court last November to change his name, and he switched his party affiliation from Republican to Democrat.
Pastor is retiring from his seat in Arizona's 7th congressional district, where more than six in ten residents are Hispanic, according to census data. The district is deep blue, and the winner of the Democratic primary on August 26 is expected to win the general election.
(We profiled one of the candidates in the race, Ruben Gallego, last week).
According to his name-change petition, Fistler said he "experienced many hardships" under his old name. He refused to elaborate further when contacted by the Capitol Times, claiming that his campaign has been, "flooded with calls and emails."
G/O Media may get a commission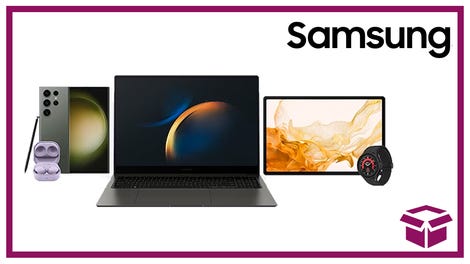 24 hour deals
Discover Samsung - Daily Deal
"There is just simply not enough Cesar Chavez to go around," he wrote in an email to the paper. "We may resume questions starting May 10 [sic]."
The candidate's attempt to run under the Chavez name by itself appears to be a ham-handed attempt to appeal to Hispanic voters. But when you visit his campaign website, it gets worse.
The Capitol Times notes that one photo, captioned "Supporters: We love you Chavez," appears to be from a rally in support of the late Venezuelan President Hugo Chavez. Another photo shows a 2006 rally honoring Cesar Chavez, the labor leader, that happened in Wichita, Kansas, the Capitol Times points out.
The Arizona Democratic Party may challenge Chavez's candidacy. Chavez did not change his party affiliation until April 28, even though he filed to run for Congress as a Democrat in February, the Capitol Times reported.
"He's either trying to make a mockery of the system, or of Democrats, or of the Hispanic community," party executive director DJ Quinlan told the paper.
Mary Rose Wilcox, a top Democratic candidate in the race, said that Chavez's campaign was in "poor taste."
"Voters aren't going to be fooled. If he thinks he can fool them, it's a real affront to the community," she told the Capitol Times. "He should be ashamed."
A white anti-gay activist named Dave Wilson pulled a similar stunt in Houston last year, when he defeated a longtime community college trustee in a heavily African-American district in part by posing as black.
h/t TPM
Jordan Fabian is Fusion's politics editor, writing about campaigns, Congress, immigration, and more. When he's not working, you can find him at the ice rink or at home with his wife, Melissa.