James Wolfe, the former head of security for the Senate Intelligence Committee, was sentenced to two months in jail for lying to the FBI about his contacts with journalists, according to Buzzfeed.

Wolfe's case first made the news when it was revealed that he had an affair with New York Times journalist Ali Watkins, who covered the Senate Intelligence Committee. As part of the case, the FBI secretly seized Watkins emails and phone records, leading to an uproar over press freedom. Wolfe's arrest was seen as part of the Trump administration's crackdown on government officials leaking information to the press.
Wolfe was not charged with leaking classified information to reporters, which he maintains he never did, but with lying to the FBI about his contact with journalists.
From Buzzfeed:
"His initial denials of those contacts reflected an understandably human, but nonetheless improper, attempt to conceal his extramarital personal relationship with a reporter and to preserve his job. But his personal indiscretions and his contacts with certain reporters in which he shared limited, unclassified information about matters occurring before the Committee violated no federal law," Wolfe's lawyers wrote.
G/O Media may get a commission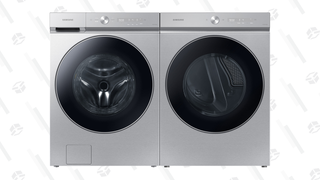 Get $500 back in credit
Last Chance: Samsung Bespoke AI Washer and Dryer Preorder
Wolfe pled guilty to the charges in October.
At the sentencing, Judge Ketanji Brown Jackson said that Wolfe should face the same repercussions that anyone else would for a similar offense.
"This court routinely sentences people who come from nothing, who have nothing, and whose life circumstances are such that they really don't have a realistic shot of doing anything other than committing crimes," Jackson said, according to Buzzfeed. "The unfortunate life circumstances of those defendants don't result in a lower penalty, so why should someone who had every chance of doing the right thing, a person who society rightly expects to live up to high moral and ethical standards and who has no excuse for breaking the law, be treated any better in this regard."
After his sentence, Wolf will spend four months on supervised release, complete 20 hours of community service per week, and pay a $7,500 fine.

"Your honor, I am so sorry, I am beyond embarrassed, I am beyond humiliated, I am beyond mortified," Wolfe told the judge during his sentencing hearing. "Those actions and my false denials were critical lapses in judgment and a personal failure on my part. It is because of what have done, no one else, that I am before this court today. I have acknowledged what I have done, broken the rules of the committee, and then lied about it."
Wolfe asked for no prison time, while U.S. prosecutors pushed for up to two years, which Jackson said would be excessive given Wolfe's offenses.
"Mr. Wolfe's reporter contacts, the previous activities, were certainly potentially harmful and entirely inappropriate but those acts themselves were not criminal," Jackson said. "And in this court's view, the risks associated with that conduct should not drive the sentence that is supposed to be imposed in this case, and especially not to the degree that the government suggests."