While many current employees of the Sinclair Broadcast Group may be afraid to speak on the record with their real names about the company's right–wing, pro–Trump propaganda, a steady stream of former employees are coming forward to warn that Sinclair's strong–arm tactics are threatening to damage our country's democracy.
In an Op–Ed published in the Providence Journal on Saturday, former NBC 10 producer and anchor Adam Bagni wrote that widespread concerns over the "must-run" promo spots are highly justified. The backlash over the mandatory spots snowballed after Deadspin published a video compilation last weekend of local TV news anchors at numerous Sinclair–owned stations reading what amounted to little more than "fake news" propaganda that parroted Donald Trump and the Republican Party.

Bagni said Sinclair's tactics have filled him "with both anger and disappointment."

He wrote:

By claiming that "some media outlets are publishing fake stories" and that "some members of the media use their platforms to push their own personal bias and agenda," Sinclair is asking you to trust their coverage while dismissing that of others — hopefully convincing you that outlets not associated with Sinclair are rife with bias.

The company would have you believe the spots are benign, pointing out that they had aired for weeks with little notice.

But that was the point. You'll never change someone's viewpoint by yelling at them. Instead you speak softly, with a friendly face. Only when the spots from across the country are meshed together, does it become apparent that something nefarious is afoot.
G/O Media may get a commission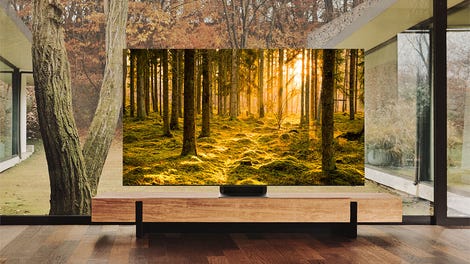 Up to 40% off
Samsung Smart TVs
Bagni urged viewers to lobby representatives in Washington to stop Sinclair's attempt to merge with Tribune Media, a move that would put Sinclair content in 79% of U.S. households. The company currently owns more than 170 local stations. He also urged viewers to speak out on behalf of Sinclair's employees, who are for the most part forbidden from discussing with other journalists the company's contractual relations with its employees and the content it forces them to broadcast.

"I'm speaking, because my days with Sinclair are probably done. And that's OK, because I have my integrity," Bagni wrote.

Another former Sinclair employee, reporter Jonathan Beaton, who worked for WPEC in West Palm Beach, FL, also criticized his former employer this week. Beaton said Trump might not be in the White House if not for Sinclair. On Sunday, he told CNN's Brian Stelter that the atmosphere at the Sinclair–owned station was a "culture of misogyny and xenophobia."

"I don't want to see my former colleagues who are still working for Sinclair have to continue to sustain that. And furthermore, I want the young journalists to know out there that, hey, look at who you're applying for when it comes to jobs. And do your research," said Beaton, who was sued by Sinclair for thousands of dollars after he left the station before his contract expired.

"Same with the people who watch in all these small– to mid–sized markets in the U.S. I would tell Sinclair to get their act together," he said.

While they may be hesitant to go on record with their actual names, multiple current Sinclair employees have reached out to Deadspin in the wake of the video compilation's publishing, and the insight they provide into the company's practices continues to horrify.

As Deadspin's Laura Wagner wrote:

The segment shown in the Deadspin video—which Sinclair vice-president of news Scott Livingston, in a damage-control memo to employees after Deadspin's video was published, called the "corporate news journalistic responsibility promotional campaign"—also infuriated Sinclair workers. "I feel that Sinclair threw its employees under the bus," a local news anchor said about being compelled to tape the now-infamous denunciation of the news media. "I feel that we have been used as pawns in whatever political game they're playing at the corporate level."
Wagner added:

Several local news employees told Deadspin they have been prohibited by management from putting out a statement of their own or otherwise making public comments in order to try to salvage credibility with their viewers, which they consider an imposition on their free speech. But they said walking away isn't a good option, either.
For his part, Trump shamelessly defended Sinclair this week.
"The Fake News Networks, those that knowingly have a sick and biased AGENDA, are worried about the competition and quality of Sinclair Broadcast," the president tweeted on Tuesday. "The "Fakers" at CNN, NBC, ABC & CBS have done so much dishonest reporting that they should only be allowed to get awards for fiction!"