Imagine a place that's bustling with commercial activity, where a customer can get anything from a haircut to a pair of sneakers for the right price–and where savvy businesspeople can hone their craft.
You might be thinking of a shopping mall or a busy street in a big city. But, in this case, it's prison.
At least that's what Andrew Medal, a former inmate, said in an article he wrote in The Entrepreneur this year. His main advice was, "Prison sucks, so don't go." But he found a silver lining in the experience, in that it taught him how to be a better businessman.
While the majority of former inmates face challenges finding employment upon release, a handful of them have managed to turn their incarceration into business endeavors. Not all of them have been successful; Fusion Money found several businesses launched by ex-cons and covered in the press that are no longer in operation, as well as one whose co-founder was recently arrested again.
G/O Media may get a commission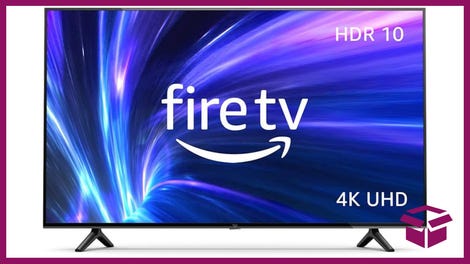 42% Off
Amazon Fire TV 50" 4K Smart TV
However, the following entrepreneurs are still running business that aim to help incarcerated people, and create jobs for other ex-cons.
1) Frederick Hutson, Founder and CEO of Pigeon.ly
When Frederick Hutson was 21 years old, he found a more efficient way to ship marijuana from Mexico to Florida and opened a mail store, according to a Forbes profile. That got him 51 months in federal prison.
He soon saw how difficult it was to communicate with loved ones, and decided to create a business to address the issue. He launched a site called Pigeon.ly that allows prisoners' family and friends to submit photos and messages online. Those messages are then printed and sent in the appropriate format to prisons.
Pigeon.ly, which also facilitates phone calls, has received about $3 million in funding, according to Crunchbase. It was one of 30 startups featured at the White House Demo Day on August 5. The 25-person company says it has sent more than 1 million photos and processed over 8 million minutes on the phone so far.
2) Coss Marte, Founder and CEO of ConBody Fitness
Coss Marte says he started his own drug delivery service in New York City when he was 16 years old. By the age of 19 he was making over $2 million a year and had some 20 employees. Then, at 23, he was sentenced to seven years in prison.
While there, doctors told Marte he could die of high blood pressure and high cholesterol within five years. So he started working out in his 9'x6' prison cell. Within six months he lost more than 70 pounds, and his methods became popular among other inmates.
Marte pitched his prison-style workout program as a business at an event organized by Defy Ventures Inc., a nonprofit that gives entrepreneurial training to people with criminal backgrounds. He won a Shark Tank-style competition, and with it the seed capital to found ConBody Fitness. Its tagline is "Do the time."
The company now has six instructors, five of whom have criminal backgrounds, Marte told Fusion. He says ConBody has so far trained about 3,500 clients. Marte is now trying to get funding through Kickstarter to build a fitness classroom that looks like a prison cell.
3) Seth Sundberg, Founder and CEO of Prison Bars
Seth Sundberg was an NBA player, then a branch manager at a national mortgage company before he got sent to federal prison for tax fraud. He spent most of his five years there working in the kitchen.
One day, Sundberg says, he took out a box of chicken from the freezer. On the side of the box, a label read "not for human consumption." (According to various reports, this label is unusual to find on prison food. It indicates the food is meant for pets, not people.)
"I realized right then that something has to change," Sundberg said at the 2015 WIRED Business Conference. He gathered some inmates and started mixing the healthiest food they could find at the commissary store. They came up with a granola-and-oats snack bar called Prison Bars, which the company touts as "criminally delicious."
Sundberg was looking to raise $60,000 for his business at the WIRED conference in May. The company takes pre-orders through its website to deliver by mail.
4) Rob Lilly, Founder and Executive Chef of Powerhouse Events and Catering
Robert Lilly says he was the first in his family to graduate from college. He put himself through college partly by getting involved in the drug scene, according to a 2013 Crain's article. He got arrested for possession of drugs with intent to distribute during his first year of law school.
Lilly ended up serving about six months in prison. Upon release, he found that his criminal record made it almost impossible to find a job in marketing, which was his college major. He decided starting his own business was a better option, and launched Powerhouse Events and Catering. The company generated more than $20,000 in revenue within the first six months of operation, according to Lilly's profile on Defy Ventures.
Lilly says part of his mission is to create jobs for young fathers–which all four of his current full-time employees are. He is now looking for a new location to house his Brooklyn-based business.
Isabelle Niu is a digital video producer at Fusion.