Fox News' Jesse Watters has lost his mind. In a rant filled with misleading statements about the FBI and Special Counsel Robert Mueller's investigation, Watters accused members of law enforcement of carrying out a "coup" against the Trump administration.

"So the investigation into Donald Trump's campaign has been crooked from the jump," Watters said. "But the scary part is we may now have proof the investigation was weaponized to destroy his presidency for partisan political purposes and to disenfranchise millions of American voters. Now, if that's true, we have a coup on our hands in America."

To reinforce the point, Fox raised the coup question again on its chyron during an interview with Trump adviser Kellyanne Conway.
G/O Media may get a commission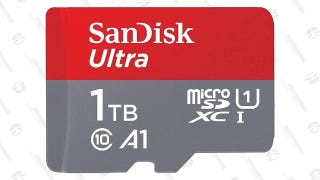 Save $70
SanDisk Ultra 1TB MicroSDXC Card

The "coup" claim is the latest in a series of attacks by Fox News against Mueller and the FBI, which some say are reaching a dangerous new level. The reaction on social media, particularly from journalists and others who work in countries where actual coups occur, was incredulous.