On her Saturday night show, Fox News host Jeanine Pirro encouraged full on fascism in a characteristically unhinged screed that called for a "cleansing" at the FBI and Department of Justice—a purge, she specified, that would end with many agents and even special counsel Robert Mueller in handcuffs.
"There is a cleansing needed in our FBI and our Department of Justice," Pirro enthusiastically declared. "It needs to be cleansed of individuals who should not just be fired but who need to be taken out in handcuffs."
"The stench coming out of the Justice Department and the FBI is like that of a third-world country where money and bullies and clubs decide election," Pirro added. "It all started with cardinal [James] Comey destroyed our FBI with political hacks to set events in motion to destroy the republic because they did not like the man we chose to be our president."

Pirro, a former district attorney and judge, specifically singled out special counsel Robert Mueller and former FBI Director James Comey as targets who deserve to be locked up in her fantasy cleansing. The rant, which lasted a whole seven minutes, basically amounted to a wishful indictment list of all the lead investigators probing Donald Trump and his campaign.

G/O Media may get a commission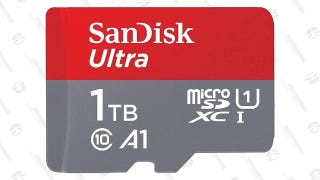 Save $70
SanDisk Ultra 1TB MicroSDXC Card
"Handcuffs for Andrew McCabe, the deputy director of the FBI," Pirro added. "The man at the hub, protecting Hillary and attempting to destroy Trump."

Pirro's comments come just over a week after Trump went after the FBI and its former director on Twitter. "After years of Comey, with the phony and dishonest Clinton investigation (and more), running the FBI, its reputation is in Tatters - worst in history," he tweeted.
Criticizing Pirro's unambiguous endorsement of expelling agents from the FBI whom she perceives as a threat to Trump's presidency should not be interpreted as a defense of the FBI. However, it's quite clear that an FBI whose agents have been tested for their loyalty to Trump would be decidedly worse than the bureau we're presently stuck with.
Fortunately, Pirro's once persuasive sway over Trump has reportedly waned in recent weeks. According to a recent profile in The New York Times, one of Pirro's rants on Comey agitated Trump so intensely, he walked out of the room where they were having a meeting.