Garbage and burnt rubble. That was all that was left of the four improvised student tent camps in eastern Caracas, the capital of Venezuela, after National Guard Troops dismantled them on Thursday. At least 243 student protesters were detained, including Rodrigo Diamanti, the activist credited by some with launching the #SOSVenezuela campaign, which has helped raise media awareness on the current crisis in Venezuela.
'It's probably the day with the largest number of student detentions since the protests started on February 4th,' tweeted Alfredo Romero, a human rights lawyer who has been helping detained students get legal advice.
Diamanti, a young activist who heads the NGO Un Mundo sin Mordaza or "A world without censorship" was detained at Maiquetia Airport outside Caracas by the Venezuelan intelligence service or SEBIN.
His arrest comes days after the authorities searched the headquarters of his NGO. Since supports have been spreading the word and calling his release using the hashtag #FreeRodrigo or #LiberenARodrigo.
The protests in Venezuela have been going on for almost three months now. At least 41 people have died and two thousand have been detained.
G/O Media may get a commission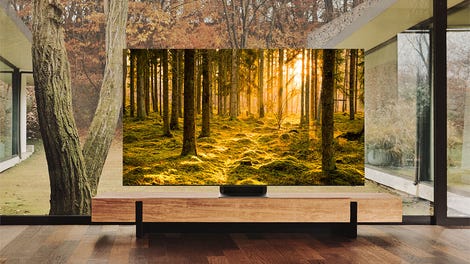 Up to 40% off
Samsung Smart TVs
Three sets or negotiations or "peace talks" have taken place between the government of President Nicolas Maduro and a fraction of the opposition. Envoys from the Catholic Church, the governments of Brazil, Ecuador and Colombia have served as intermediaries. But no concrete actions have come from them.
The student detentions are likely to bring both parties to square one. The Venezuelan streets were filled with a new wave of blockades and demonstrations, and images of National Guard troops confronting protesters with tear gas, pepper spray, water cannons and gun shots.
In parallel, the US Government moved closer to imposing sanctions on high ranking Venezuelan officials. The bill discussed in the Senate Foreign Relations Committee, pushed primarily by Senators Marco Rubio and Robert Menendez, would entail funding democratic programs in Venezuela and revoking US tourist visas for prominent Government officials.
A group of Venezuelan expats is traveling from Miami to DC to urge Washington to impose sanctions on Venezuelan officials. But the Venezuelan opposition is divided around the issue. The dwindling Mesa de la Unidad Democratica or MUD, which acts as an umbrella for a faction of the opposition, is opposed to sanctions.
The divisions between the opposition have proven to be their Achilles heel. But the raid on the camps and the student detentions, especially Rodrigo Diamanti's, will certainly give them a new rallying cry.
Mariana Atencio is a globetrotting host and correspondent at Fusion. She is a Peabody, Investigative Reporters and Editors, and Gracie award-winning journalist covering stories that matter to real people.