Fandom comes in many forms. Maybe you save photos of your fave celeb on a Pinterest page, or on your desktop in a special folder. Maybe you write fan fiction. If you're Jeanne, a 16-year-old Parisian girl who loves One Direction's Harry Styles, you create a Twitter account pairing beautiful photos of your idol with inspiring paintings.
In April, Jeanne and her two friends Rose and Kate launched @stylesasart, which posts photos of Styles side-by-side with works of art with a similar vibe. They have 18 thousand followers.
Jeanne says she has loved art since she was a little girl—both of her parents are artists. One of her partners in the project, Rose, is an art student. The two don't have a strict method for choosing which photos go with which paintings. "I just wanted to mix two of the things I like, Harry and art! And that is how Harry as art is born, it's as simple as this," Jeanne told me in an email. Specifically, they try to pair the images based on color, tone, and shape.
G/O Media may get a commission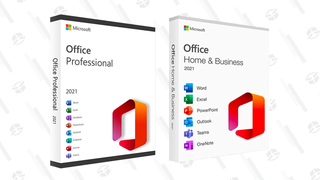 89% off
Microsoft Office Professional 2021 Lifetime License
Some of the pairings are really beautiful—like this one, where the stage light emanating from behind Harry has the same kind of floating, soft quality as the one in the oil painting:
Or this one, where the smoke from fireworks off to the side of the stage almost perfectly mirror a painting of a Scottish sky:
Or the Harry's energy while performing matched with the frenetic quality of an abstract expressionist painting:
On the surface, this is just a silly Twitter account, but it's interesting to think about it as a way to expose young girls to art that they might not be interested in or seek out on their own. Jeanne told me, though, she really does hope the account has some impact: "I hope that people will see not only art on paintings, photography, but also in people. Everyone is a piece of art! 😘"
Kelsey McKinney is a culture staff writer for Fusion.