If you were a kid who was breastfed, you should probably go ahead and thank your mom on Mother's Day this weekend. Not only is it often considered "nature's perfect food," but it has also been linked to higher intelligence later in life and reducing obesity.
All of that makes it even more troubling that a recent study found that a chemical found in the world's best-selling weed killer is present in the the breastmilk of many American mothers. The controversial chemical, known as glyphosate, was found in three of ten mothers tested in the U.S., according to a new pilot study commissioned by Moms Across America and Sustainable Pulse, groups which oppose genetically-engineered crops (GMOs).
Glyphosate is the central ingredient in Monsanto's Roundup, the top trademarked herbicide in the world. According to Monsanto's 2013 annual report, the sales of Roundup and other glyphosate-based Monsanto products rose 7 percent percent in 2013. They are routinely used on genetically-modified crops.
Past studies have linked exposure to high levels of glyphosate to cancer and premature death in lab rats.
There are currently no regulatory limits for glyphosate in breast milk anywhere in the world, but the levels found in American mothers' breast milk are about 1,000 times higher than the amount that is allowed in European drinking water.
G/O Media may get a commission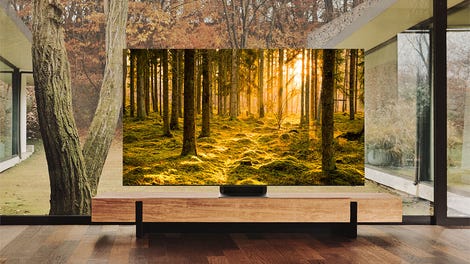 Up to 40% off
Samsung Smart TVs
Europe overall has significantly more regulation of genetically engineered crops and herbicides than the U.S.
Critics of glyphosate, including environmental groups, have long warned of the potential dangers it could pose to humans. Many growers, on the other hand, have embraced it for its ability to kill weeds and boost production on their farms. In 1992, the U.S. Food and Drug Administration said GMO crops are "generally recognized as safe," meaning that there is no obligation to pre-approve the crops before they hit the market.
But the fact that glyphosate has been found in breast milk directly challenges the assumption of regulators and corporations that the chemical is not doesn't stay in the body long if ingested and does not cause harm.
"It is frightening to see any glyphosate in my body, especially in my breast milk that will then contaminate my son's growing body," Jessica M., one of the mothers who tested positive for the chemical told Sustainable Pulse after the study. "It's particularly upsetting to test positive for glyphosate because I go to great lengths to eat organic and GMO free. I do not consume any meats or seafood and only very rarely eat dairy. This really shows me, and should show others, just how pervasive this toxin is in our food system."
The pilot study was not conclusive nor does it meet the scientific criteria for a conclusive study, which the environmental groups admit. They say it was meant to "inspire and initiate" full peer-reviews by regulatory bodies and independent scientists.
When asked for comment on the study, Monsanto representatives directed Fusion to a an analysis posted on Academics Review, which reads in part:
Detection of a chemical in our bodies is not indicative of a health hazard. Many fruits and vegetables naturally contain low levels of very toxic chemicals. The levels cited in this report are well below the established average daily intake (ADI), and the trace levels of glyphosate were found only in a minority of the samples.
Glyphosate has been studied extensively for more than 40 years. Comprehensive toxicological studies have demonstrated that glyphosate doesn't cause cancer, birth defects, mutagenic effects, nervous system effects, endocrine disruption or reproductive problems. It's classified by the EPA in the most favorable category possible.
Prior to the study, senior Monsanto scientist Dan Goldstein wrote on GMOAnswers.com that the chemical is excreted from the body rapidly through urine, if ingested. He also stated that the chemical does not undergo metabolism, and denied that it accumulates in body fat or tissues.
Now that statement, and previous assumptions about the chemical, are being called into question. Activists and groups who commissioned the test are clamoring for the USDA and the Environmental Protection Agency to place a temporary ban on all glyphosate-based herbicides to protect public health, until more comprehensive research is conducted in the wake of this pilot study.
"We've pretty much sacrificed an entire generation of children," Dr. Don Huber of Purdue University, who focuses on plant pathology and epidemiology, told the podcast Food Integrity Now about the findings. "The longer we go [without long term studies], the more damage that is going to accumulate."
Daniel Rivero is a producer/reporter for Fusion who focuses on police and justice issues. He also skateboards, does a bunch of arts related things on his off time, and likes Cuban coffee.