At one point, you might have thought that naked-in-the-kitchen selfie you sent on Snapchat disappeared forever after two seconds. But some embarrassment later, you might have realized that there were actually more than a few ways for that photos' recipient to save all the glory onto their iPhone. Now, after 3 years and over 700 million snaps a day, Snapchat has agreed to settle with the FTC about the false claims that their snaps "disappear forever."
Snapchat, which has been around since 2011, is a popular messaging app built to send pictures and videos over to your friends. Its concept is straightforward: You send a picture over to someone in your friends list and set a timer for its expiration. Once the photo has expired, it's supposed to be never again be retrievable.
But since Snapchat's birth, numerous methods have arisen to circumvent this, including apps like SnapSave and SnapCrack, and the good ol' screenshot method, among others.
Besides all this, the current FTC complaint also includes allegations that Snapchat has been infringing on its users privacy by saving location data and address book contacts. It also alleges that Snapchat failed to secure its Find Friends feature, which comprises a database of over 4.6 million user names and phone numbers.
The FTC has since then ruled and sanctioned Snapchat, concluding in a press release, "Snapchat will be prohibited from misrepresenting the extent to which it maintains the privacy, security, or confidentiality of users' information. In addition, the company will be required to implement a comprehensive privacy program that will be monitored by an independent privacy professional for the next 20 years."
G/O Media may get a commission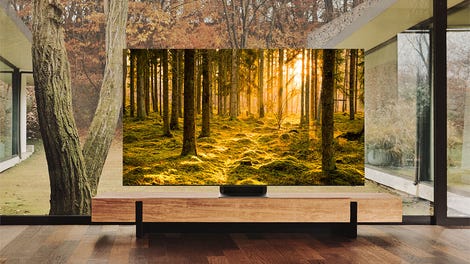 Up to 40% off
Samsung Smart TVs
The company issued the following statement in response:
When we started building Snapchat, we were focused on developing a unique, fast, and fun way to communicate with photos. We learned a lot during those early days. One of the ways we learned was by making mistakes, acknowledging them, and fixing them.
While we were focused on building, some things didn't get the attention they could have. One of those was being more precise with how we communicated with the Snapchat community. This morning we entered into a consent decree with the FTC that addresses concerns raised by the commission. Even before today's consent decree was announced, we had resolved most of those concerns over the past year by improving the wording of our privacy policy, app description, and in-app just-in-time notifications. And we continue to invest heavily in security and countermeasures to prevent abuse.
We are devoted to promoting user privacy and giving Snapchatters control over how and with whom they communicate. That's something we've always taken seriously, and always will.
Julian Reyes is a VR Producer for Fusion.