There are two "resistances" in Trump's America. One—the very loosely-connected, small-r resistance led by people who probably wouldn't call it that, but who represent some of the most threatened groups in America—is a vital part of everyday life under Trump. The other—the #Resistance—is a meme.
The real "resistance" has been doing important work on the ground, organizing strikes, demonstrations, and all kinds of direct actions in D.C. and across the country. After so many years of stone-faced "pragmatists" trying and failing, for example, to get moderate gun control passed or slight increases in school funding, who could have guessed that the Trump years would give birth to fierce, well-organized movements like NeverAgain and RedForEd?
The flip side of this is the #Resistance, which would be completely lost without its antagonist, a bumbling oaf who regularly creates crises by smashing his grubby fingers all over his phone while he takes his morning dump.
The first "resistance" is constantly under attack but actively participating in the building of a better world even as it goes to hell. The second is utterly fucking useless.
Now, we have finally come to the logical conclusion of the #Resistance: reports of wealthy Democratic donors—who apparently have learned nothing from the capitulation of supposed Trump antagonists like Mitt Romney and Glenn Beck—openly scheming with Never Trump conservatives, whose main problems with Trump include the idea that he's not enough of a hawk. And this melding of the minds is allegedly all happening in a quest to Save the Republic—not only from Trump and the far right, but the far left, too! (You know, the Maoist wing of the Democratic Party.)
G/O Media may get a commission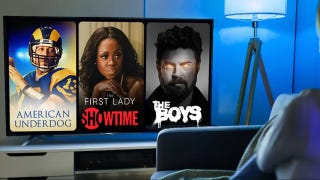 UNDER $1
99¢ Prime Video Channels
The New York Times reports that prominent members of these two groups— such as Third Way board member and philanthropist Rachel Pritzker and conservatives like Evan McMullin, Mandy Finn, and Bill Kristol—have "formed a loose network of cross-partisan alliances" through off-the-record meetings.
Some of what's described seems somewhat useful, such as conservatives signing onto amicus briefs challenging Trump's immigration orders. A lot of what's described isn't. Just look at this shit in particular (emphasis mine):
A coalition involving many of the same groups is working to quickly mobilize mass protests across the country if Mr. Trump acts to impede the special counsel investigation. And next month organizers of a group of leading donors and operatives from the right and left called Patriots and Pragmatists are expecting their biggest turnout yet at a meeting in San Francisco, according to people familiar with the planning.

The discussions at Patriots and Pragmatists meetings are intended to focus on big picture topics related to democracy, rather than elections or political funding. Nonetheless, some see the coalition as having the potential to bring the same kind of financial firepower to an anti-Trump centrist movement as the Democracy Alliance brought to the left. Its efforts were described by a dozen people familiar with the group, who spoke anonymously to describe private discussions.

The group has held three two-day gatherings outside San Francisco, New York and Washington, to which Ms. Pritzker and her political adviser invited 20 to 40 people per meeting. Gatherings have drawn influential Democratic operatives like Mr. Bassin and the Democracy Alliance founder Rob Stein. They have also attracted big-name Republican and conservative thinkers, writers and operatives including Mr. Taylor, the legal analyst Benjamin Wittes and the foreign policy hawks Mona Charen, David Frum, Robert Kagan, Mr. Kristol and Jennifer Rubin. Also attending were Mr. McMullin, who ran a long-shot independent conservative presidential campaign against Mr. Trump in 2016, and his running mate, Ms. Finn.
You'll be shocked to discover, by the way, that large amounts of money are involved in this effort:
Perhaps most significantly, Patriots and Pragmatists gatherings have drawn major donors like William D. Budinger, a former Democracy Alliance board member, and representatives of deep-pocketed grant-writing foundations like Pierre Omidyar's Democracy Fund and Democracy Fund Voice, and the William and Flora Hewlett Foundation's Madison Initiative.

[...]

Stand Up Republic and Stand Up Ideas — founded by Mr. McMullin and Ms. [Mandy] Finn — have received a total of as much as $1.3 million from the Democracy Fund groups and the Madison Initiative. And Protect Democracy and the Protect Democracy Project — founded by Mr. Bassin — have received as much as $500,000 from those grant-writing foundations, according to financial information on their websites.

All of these people are terrible, and their ideas—the Iraq War, deregulation, the destruction of the safety net—took us down a road that ultimately brought us to Trump. And now, they have decided that they're going to save us by bringing patriotic, pragmatic leadership back to America in the form of a joint partnership between the wealthy benefactors of the Democratic center and the grifters of the neocon right. Sure, we tried something like this before and it was a slow-motion car crash. But it's gotta work at some point, right?
If you're in search of actual resistance to Trump, it's happening every day right in front of us. This, on the other hand, is a joke.