This season on Game of Thrones, women gathered an army, fled a usurping uncle, took the Iron Throne, and called in the troops that won the biggest battle. "Valar Morghulis," they said—all men must die.
But who is behind the camera while these actresses are creating a new Westeros? Who is directing them when they rage and cry and scheme and plan? Who is writing the lines they say after they are violently attacked or raped? Who is producing the shots of them rising to power?
Turns out, it's a bunch of men.
Of all the Game of Thrones episodes to air, only 6% of them were directed by a woman. All four of these episodes took place in seasons three and four. It has been three years and three seasons of "strong female characters" on Game of Thrones since the last time a woman directed an episode. Next season, the show has already revealed, will also be directed exclusively by men.
G/O Media may get a commission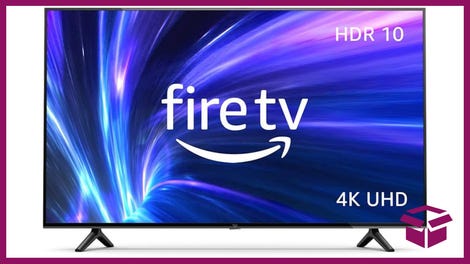 42% Off
Amazon Fire TV 50" 4K Smart TV
Game of Thrones, of course, is not unique. Most television shows fail to place women in directorial roles. In May, the Directors Guild of America released statistics that show that, during the 2015-16 season, only 17.1% of all episodes were directed by women. That's up from 15.8% in the 2014-15 season, but still pretty terrible considering women represent 50% of the population. HBO as a network was ranked as one of the worst offenders in that DGA report.
Of the 60 episodes of Game of Thrones that have aired on HBO, only four of them have been directed by a woman. As I mentioned, that's just 6%. Despite the fact that more than half of the main characters are women—one of whom, Cersei Lannister (Lena Headey), is currently sitting on the Iron Throne—a woman has not sat in the director's chair for a Game of Thrones episode since 2013.
Of course, many directors helm more than a single episode of a television show. That 6% figure only indicates how many episodes were directed by a woman—not how many women in total have directed an episode. That data is even more depressing. I also broke it down for you by the number of unique directors (and their sex) to work on at least one episode:
It took 18 different directors to make the 60 episodes of Game of Thrones. Some of these directors only shot a few episodes, like Timothy Van Patten, who directed the first two episodes of the first season and none since. But of the 18 unique directors to have worked on a Game of Thrones episode, only one of them has been a woman: Michelle MacLaren. One! That's 5%.
MacLaren directed four episodes of the series in seasons three and four. For superfans, those episodes are: "First of His Name," "Oathkeeper," "Second Sons," and "The Bear and the Maiden Fair," which features one of Daenerys' most powerful scenes as she and her dragons intimidate the ambassador of Yunkai. The episode is often undervalued because it doesn't include a major battle scene, but its true strength is in showing sexuality in Westeros from a number of different angles. It's been praised as one of the best episodes, ranking 9th on this list.
But MacLaren hasn't directed an episode since season four. That means the last episode to have been directed by a woman in this series was "The Bear and the Maiden Fair" in May 2013. Three years ago! And that trend isn't going to be resolved any time soon. According to Hitfix, Alan Taylor, Jeremy Podeswa, Mark Mylod, and Matt Shakman have signed on to direct episodes for next season. They are expected to direct all of next season's episodes, but that's not the only thing they have in common: They are all white men.
This, of course, sets up the show to fail over and over again. Take the fourth season's episode "Breaker of Chains" (directed and written by men), in which Jaime rapes Cersei. She says "no" and "don't" and "it isn't right," and Jaime says, "I don't care." That's rape! But if you ask the director Alex Graves, as Vulture did, about that scene, he says, "It becomes consensual by the end." No, that is not actually how rape works. As Margaret Lyons wrote for Vulture at the time the episode aired "in the books, the sex is absolutely consensual[…] Turning this into a rape scene just adds another layer of unnecessary depravity to an already profoundly desperate moment."
It's a failure amplified by the misunderstanding of the person shooting the scene. Certainly men can direct sex on television in a nuanced and entertaining way. But so often they just haven't on Game of Thrones.
As vital as the position is, the director isn't the only person behind the scenes with control over what happens on screen. Let's look at how the writers' room shapes up.
The writers' room on Game of Thrones is notoriously small. Over the show's run, only seven people have earned writing credits. In theory, the writers' room is more welcoming of female writers than the show is of female directors. 2/7 means women make up 28.5%, which is representation almost as good as any other television show could claim. But—and this is a big but—those two women have very, very few writing credits.
Let's look at how the individual episodes play out.
Only four episodes of Game of Thrones have a woman credited as a writer. Jane Espenson's only writing credit—a co-credit with showrunners D.B. Weiss and David Benioff—is for 2011's "A Golden Crown." Vanessa Taylor fared a little better, writing three episodes by herself: "The Old Gods and the New" (2012), "Garden Bones" (2012), and "Dark Wings Dark Words" (2013).
To be fair, the majority of writing credits go to Weiss and Benioff. Game of Thrones, of course, is based off a series of books by George R. R. Martin, who is, obviously, a man (and also has writing credits on the show). Of the 60 episodes, the two showrunners have writing credits on 43 of them. But that doesn't mean Taylor's three-episode stint over two years is standard among Game of Thrones writers. For example, her colleague Bryan Cogman has written nine episodes, the most recent of which was "The Broken Man" (2016).
Just as the director's seat has remained unoccupied by women for three years, a female writer hasn't penned a Game of Thrones episode since 2013—that's three seasons and a world apart from where the show is now. Sansa's rape? Written by a man. Khaleesi's rise to power? Also written by a man.
So we went a little further. There's more to a production crew than just writers and directors. I looked at credited producers on the 60 episodes of Game of Thrones. This included executive producers (like Benioff and Bernadette Caulfield) and line producers, all the way down to associate producers.
Every episode, of course, has different credits, but for the most part this list stayed consistent from season two through season six. Every season of Game of Thrones credits between 11 and 20 people with production roles.
As you can see on this chart, with the exceptions of seasons one and six, women consistently take up about five out of 11 chairs. That means that women make up about 31% of the production staff in every season except for season one. That's pretty good! Not great, but good. Especially when compared with the 11.6% of episodes directed or written by women.
We reached out to HBO and Game of Thrones about this data and the lack of women involved behind the scenes, and they responded with this comment:

"We are extremely proud of the contributions made by women on Game of Thrones, both in front of and behind the camera.  While most people are familiar with the actresses who dominated this past season, they would be remiss not to acknowledge that such positions as executive producer to director of photography to executive in charge of production to production designer to executive in charge of post are all held by women on the series and are key to its success."
And they're right. Women have held prominent production roles on the Game of Thrones set since season two. But they are still by far the minority.
When Theon's face was the pain shown during Sansa's rape, that direction was given by a man. When Jaime Lannister forced himself on his sister (and also lover) Cersei, that rape was directed by a man. When Stannis' daughter Shireen was burned at the stake, her lines were written by a man. Even as these women transition from victims to conquerers, their lines are written by men, their rises to power dictated by the men on the other side of the camera.
Game of Thrones fans love to bill the show as a feminist institution. Despite the violence against women and unnecessary nudity, they argue, the female characters are powerful and multi-dimensional. This is certainly true. On screen, Game of Thrones might be empowering. But when we look behind the scenes, past the Khaleesi and the woman sitting on the Iron Throne, it's another story.
Kelsey McKinney is a culture staff writer for Fusion.