Felipe Sousa-Rodriguez is a bit nervous that he's cutting it close to the 10:30 a.m. speech he's suppose to deliver at the marriage equality rally in front of the Supreme Court Tuesday morning.
The 29-year-old old left New York for Washington, D.C., at 6:10 a.m. this morning, wearing a black suit and pink button-down shirt. He says he's making the trip to share a bit of his own personal story of how being able to marry his partner changed his life, in more ways than the obvious.
"I was born in Brazil and I came to the U.S. when I was 14—right around the same time it became clear in mind that I was attracted to men," Sousa-Rodriguez told Fusion in a telephone interview.
The Supreme Court on Tuesday will hear arguments in a landmark case that may lead to a ruling that would legalize same-sex marriages across the country. If the ruling, expected in mid-June, has a positive outcome for LGBT couples, it will be a historic day for the for the marriage equality movement that has been fought in and outside courts since the early 1970s.
G/O Media may get a commission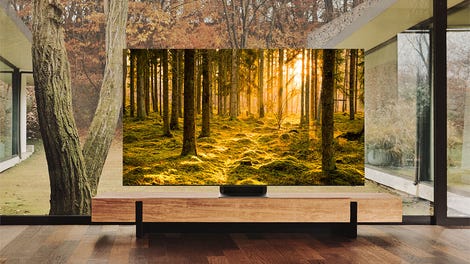 Up to 40% off
Samsung Smart TVs
A ruling in favor of same-sex marriage would also have a second life-changing effect for many immigrants like Sousa-Rodriguez: same-sex partners will be able to petition for adjustment to their partner's immigration status in all 50 states. Currently, U.S. immigration services only recognize same-sex couples that were married in states where gay marriage is legal.
"I lived in the double closet. I was in the closet because I was attracted to men, and I was also in the closet because I was undocumented," said Sousa-Rodriguez, who today is no longer undocumented because his partner was able to petition and request a green card for him.
Sousa-Rodriguez is currently the deputy managing director of United We Dream, a national immigrant youth-led immigration rights group.
There are an estimated 904,000 LGBT adult immigrants in the U.S., according to a 2013 study from the Williams Institute, a think tank that studies the intersection of sexual orientation, gender identity and public policy. At least 267,000 LGBT immigrants are undocumented.
Sousa-Rodriguez had to travel from Florida to Massachusetts to get married in 2012. He currently lives with his partner in New York.
The federal immigration system's state-by-state recognition of same-sex couples has resulted in an unfair system where some gay couples can change their spouse's immigration status but others can't.
A mixed-status gay couple in Arizona, where gay marriage is legal, can petition for immigration adjustments. But in Texas, where same-sex marriage is not legal, gay couples are stuck in limbo, in danger of being torn apart by immigration laws.
Some couples living in states near southern U.S. borders couldn't travel even if they had the resources to do so, points out Caroline Dessert, executive director of Immigration Equality, a New York-based organization that provides legal representation to LGBT and HIV-positive immigrants.
Because of increased policing of the border, many couples have no safe route out of places like South Texas that don't put them at risk of deportation.
"Same-sex couples should have the same rights as opposite-sex couples, including equal rights to marriage and immigration benefits," Dessert wrote in an email to Fusion.
If the Supreme Court rules in favor gay marriage then U.S. citizens and permanent residents will be able to petition an adjustment to their partner's immigration status in all 50 states.
Felipe Sousa-Rodriguez said a positive Supreme Court outcome would also give him more piece of mind when he travels, especially to one of the 14 U.S. states that do not recognize same-sex marriage.
If something were to go wrong he worries his partner's rights would not be recognized.
Sousa-Rodriguez says he's going to take the opportunity during his speech Tuesday to bring the immigrant community and the LGBT community closer together.
"I'm going to challenge the immigrant community to show up to support the LGBT struggle and I'm going to challenge the LGBT community for the immigrant struggle," he said.