The people of Houston voted to repeal the city's nondiscrimination bill earlier this week, which protected residents from housing and employment discrimination on the basis of their race, sexual orientation, gender identity, and other classes of identity.
Is the defeat of the Houston Equal Rights Ordinance (HERO) the result of transphobic misinformation campaigns? Yes. Is lazy reporting to blame? Probably. Could Beyoncé, as one of the most recognizable Houstonians in the world, have used her platform to advocate against HERO's repeal? I mean, sure. While we're at it, Taylor Swift could have signal-boosted literally any of the Eric Garner-related activism in her new hometown of New York back in the fall of 2014. I'm not usually one to ask this, but why are we even talking about Beyoncé at all?
The question of whether Beyoncé let Houston's LGBT community down was posed by LGBT Program Director for Media Matters Carlos Maza in a piece published by The Huffington Post's Gay Voices section Tuesday. In the post, he cites a months-long campaign to get the singer involved that included student-led activism on Twitter under the #BeyBeAHERO hashtag.
"Beyoncé had a golden opportunity to oppose an active effort to legalize discrimination against LGBT Houstonians," Maza writes, careful never to directly blame the singer for the ordinance's repeal. "HERO is gone, now. And for her queer fans who watched and waited while Beyoncé decided it wasn't in her brand's interests to speak out in defense of her hometown's non-discrimination law, all there's left to do is ask 'why not?'"
Some Venn diagram of Gay Twitter and Media Twitter had an answer ready. Executive editor of The Aerogram, Rohin Guha, posited that "lobbying beyoncé to support #hero is not as effective as turning up the heat on the entire houston electorate + its politicians."
G/O Media may get a commission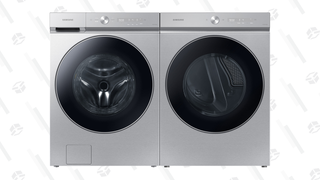 Get $500 back in credit
Last Chance: Samsung Bespoke AI Washer and Dryer Preorder
https://twitter.com/ohrohin/status/662086762521604096
Senior Analyst at the Center for Social Innovation Tom André Bardwell urged people to "Center the outrage on issues" and "Amplify trans voices" instead of "[making] #Houston about Beyoncé."
Kevin Allred, who teaches a course on Politicizing Beyoncé at Rutgers University, criticized Maza's piece for playing into a what he feels is a "dynamic black women experience every day" where they "receive no credit & all the blame."
Members of the BeyHive also weighed in. A Beyoncé fan account operating under the handle @beyfact posted a screen shot of an alleged email exchange with a rep from the singer's management company, Parkwood Entertainment. The message reads that "No supporter, interviewer, or writer" has contacted Beyoncé's camp about #BeyBeAHERO.
https://twitter.com/beyfact/status/662049487179882496
I've reached out to Parkwood to confirm if the email exchange is for real and to see if anyone connected with Beyoncé's team about #BeyBeAHERO. I'll update the story if I hear back.
Bad at filling out bios seeks same.