Republican Sen. David Perdue of Georgia appears to be tough enough to snatch a cellphone out of a college student's hands, but not tough enough to answer a simple question about voter suppression in his state.
Perdue was on the campus of Georgia Tech campaigning for Georgia Secretary of State Brian Kemp on Saturday when he was approached by a student and member of the Young Democratic Socialists of America who wanted to ask a question.

Kemp, who has systematically targeted people of color to purge them from voter rolls for years, is in a tight battle for governor against Democratic candidate Stacey Abrams. On Wednesday, the Associated Press reported that 53,000 voters had been placed on hold on the state's voter registration list ahead of the November elections, most of them African Americans. Tuesday was Georgia's deadline to register to vote.

The AP noted that Kemp's office has canceled more than 1.4 million voter registrations through voter roll purges since 2012. That includes 670,000 canceled registrations last year alone.

On Thursday, Kemp was sued by a coalition of civil rights groups over the state's "exact match" voting law of 2017, the primary tool that Kemp and state lawmakers have used to keep people of color off voter rolls by targeting minor discrepancies of personal information in existing registries. Abrams, who could become the country's first female black governor, called on Kemp to resign.

G/O Media may get a commission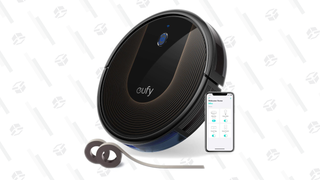 48% Off
Eufy BoostIQ RoboVac
All of this was the backdrop to the question the Georgia Tech student, who was unnamed, wanted to ask Perdue while recording video on his phone. But the senator wasn't having it—the student couldn't even finish his question before Perdue violently reacted.

"So, how can you endorse a candidate…," the student began, as heard in the video.

"No, I'm not doing that. I'm not doing that," Perdue responded while grabbing the phone away.

"You stole my property," the student fired back. "Give me my phone back, senator."

"You wanted a picture?" Perdue asked, apparently hiding the phone behind his back. "You wanted a picture?"

The student did manage to recover his phone, and Perdue can then be seen hustling away. "That's U.S. Senator David Perdue. U.S. Senator David Perdue just snatched my phone 'cause he won't answer a question from one of his constituents," the student said.

The Georgia Tech chapter of YDSA posted the video of the exchange on Twitter:

In a statement, YDSA Georgia Tech said later, "It is our belief, and the belief of the student, that Perdue committed the Georgia crimes of Theft by taking and Robbery. The student is considering filing a police report with campus police."

The group added that Perdue's behavior was "shocking, appalling, and totally unbecoming of the supposedly hallowed office of U.S. senator," according to The Washington Post.

On Sunday, Abrams said she is confident that voter rights groups and the Democratic Party had taken sufficient steps to ensure November's elections are fair in Georgia. Voters whose names are on hold will be allowed to cast their ballots with a photo ID, according to Abrams.

"My organization, working with the Democratic Party, we've put together the largest voter protection effort in the state's history," Abrams said on NBC's Meet the Press. "And we have national organizations that are paying attention, and I think we can make this work."