Geye Hamby, superintendent of the Buford, GA, city school system, was placed on leave after an alleged recording of him features Hamby using racial epithets in a bigoted rant about black construction workers.

In the audio, first obtained this week by the Atlanta Journal-Constitution, a man who is believed to be Hamby is heard repeatedly using the n-word while complaining about construction work, saying at one point: "Fuck that [n-word]. I'll kill these goddamn...shoot that motherfucker if they let me."
Warning: the following video features graphic, racist language.  
While it's unclear when the recording was actually made, it is part of a lawsuit filed in June by Mary Ingram, a former paraprofessional with the school district. Ingram claimed she was fired in 2017 after she'd requested to add gold—representing the district's black community—to the district's emblem, and says she had never received unsatisfactory evaluations before she began pushing for the logo change.
G/O Media may get a commission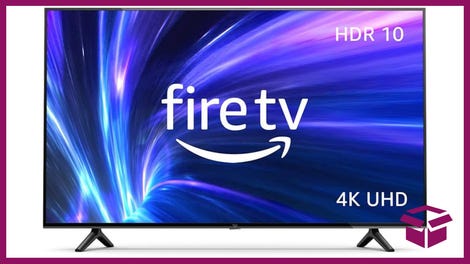 42% Off
Amazon Fire TV 50" 4K Smart TV
"I was afraid we were about to lose our heritage," Ingram, who is black, told the AJC. "I wanted them to know it was important to the community."
Hamby himself declined to comment on the audio, telling the paper that "this is a personnel and legal matter pertaining to a disgruntled employee." An attorney for the school board, meanwhile, has cast doubt on the recording's authenticity, telling the ACJ that the board:

[has] been unable to determine its veracity and authenticity and whether the recording was altered and was at the consent of at least one party or the product of illegal surveillance. Our investigation continues into this matter, but we are hamstrung in that the plaintiff has failed or refused to produce the original recording for testing or provide any information concerning the background or foundation of the recording.
Ingram's attorney, however, says an audio expert has examined the recording and concluded that the voice does indeed belong to Hamby.
In a statement issued on Wednesday, the Buford school system said that Hamby had been placed on leave Tuesday and that the school board is planning a "specially called meeting in the next several days" to discuss next steps pertaining to Hamby's employment. In the meantime, the district said it will "continue to focus on the mission of empowering our students to reach their full potential."