Black seniors in Atlanta were ordered off a bus taking them to vote this week, after a county clerk "called the senior center raising concerns," the Atlanta Journal-Constitution reported on Tuesday.

The bus trip was organized by Black Voters Matter, a nonpartisan group doing voter outreach in communities across Georgia. As you can see in this video—posted by a ThinkProgress reporter who was traveling with the group—the event in question was cool as hell and anyone who wants to stop it is a monster. Look at these ol' sweeties dancing because they're going to vote!
According to the Journal-Constitution, County Administrator Adam Brett said officials deemed the senior center activity "political" because the chair of the local Democratic Party helped organize the event. I'm sure a Republican would have helped organize it too, if they weren't involved in actively preventing black Georgians from voting.
And then they really gave up the game with this statement given to the paper: "Jefferson County administration felt uncomfortable with allowing senior center patrons to leave the facility in a bus with an unknown third party," Brett said. "No seniors at the Jefferson County senior center were denied their right to vote."
G/O Media may get a commission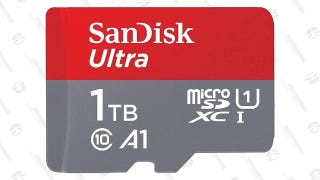 Save $75
SanDisk Ultra 1TB MicroSDXC Card
Since when does the administration of Jefferson County get to decide whether seniors can get on a bus if they want to? (The group also had advance permission for their event, according to the paper.) Their argument appears to be that because seniors were only denied this one chance to vote, their right to vote wasn't infringed, because they could go back of their own accord—something that seniors, more than many other groups, would struggle to do, given their lack of access to transportation, which was the point of the damn bus in the first place. It also misses the point of voter suppression: Turning someone away once for a bullshit reason, or closing polling locations, or restricting voting hours, or finding a way to stop people from getting to the polls at all can constitute suppression. Whatever works to stop the targeted group from voting is voter suppression.
According to ThinkProgress, which first reported the story yesterday, the NAACP Legal Defense and Educational Fund wrote to the county demanding an investigation and decried its actions as "an unacceptable act of voter intimidation" that "potentially violates several laws."
Last week, a coalition of advocacy groups sued Georgia Secretary of State Brian Kemp—who, interestingly enough, is currently running against Stacey Abrams, who would be the state's first black governor—over the state's "exact match" requirements, which mandate that a voter's information must exactly match their Social Security and driver's license records. If it doesn't, their voting status is "suspended." Residents can still vote if they're "suspended," but those voters are at risk of having their registration canceled at any time, and the Campaign Legal Center raised concerns that voters who vote by mail won't be able to settle any disputes related to this status.