Georgia Tech campus police shot and killed a LGBTQ student-activist late Saturday evening after responding to an emergency call about an armed person walking around the university's downtown Atlanta, GA, campus. When officers arrived they found Scout Schultz, a 21-year-old engineering student, outside a dormitory holding a small knife. Following a brief confrontation over the knife, campus police officers fatally shot Schultz.
The shooting was captured on video by another student from a dorm room across the street. In the footage, Schultz can be seen standing in front of a parking garage as two police officers urge Schultz to drop the knife. While the video is well-lit, it's unclear whether Schultz is holding a weapon.

Police officers can be heard telling Scout, whose preferred gender pronouns are they or them, to drop the weapon. "Come on man, drop the knife," one officer says on the video. "Come on man, no body wants to hurt you, drop the knife," another officer shouts.
Near the beginning of the confrontation, Schultz can be heard saying "shoot me," but their words are otherwise indiscernible. Moments before the shooting, Schultz can be seen slowly walking towards one of the officers who is not visible in the video. One officer can be heard shouting "Drop it," before firing on Schultz. According to CNN, a video taken after the shooting shows a small "flip open utility tool" on the ground near where Schultz was shot.
On Facebook, Scout's father Bill Schultz confirmed the shooting and described the knife as "tiny." He also challenged campus police's use of force, writing, "They didn't have to shoot [Scout] in the heart, but that's what they did. Antifa activists beware!"
G/O Media may get a commission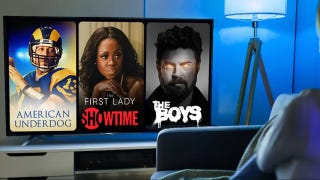 UNDER $1
99¢ Prime Video Channels
As an activist, Schultz's led a chapter of the campus Pride Alliance. In a Facebook post about Schultz's death, Pride Alliance described them as "the driving force" behind the organization. "They pushed us to do more events and a larger variety events, and we would not be the organization we are known as without their constant hard work and dedication," Pride Alliance's statement read. "Their leadership allowed us to create change across campus and in the Atlanta community."
The Georgia Bureau of Investigation (GBI) opened an inquiry into the shooting on Sunday. A statement released by GBI described Schultz as uncooperative and not compliant with responding officers' commands. "Shultz continued to advance on the officers with the knife. Subsequently, one officer fired striking Shultz," GBI said. "Subsequently, one officer fired striking Shultz. Shultz was transported to Grady Memorial Hospital where he died."
Below is video of the confrontation and shooting as seen from a dorm room across the street. Warning, this footage is graphic: