The Georgia Legislature passed a new "religious liberty" bill on Wednesday with the stated goal of preventing Christian groups from being forced to serve same-sex couples.
The bill now goes to the desk of Georgia Governor Nate Deal who gets to decide whether or not he wants a replay of the controversy from last year when Indiana passed a similar bill into law. Indiana's Religious Freedom Restoration Act led to outcry from politicians and business leaders alike and is estimated to have cost the state millions in lost business.
According to the Atlanta Journal-Constitution, HB 757 has already drawn its share of ire in the state and has been debated for two years now. Previous versions of the proposed law opted faith-based organizations and individuals out of anti-discrimination requirements if they conflicted with their beliefs. The law received extensive revision after Gov. Deal and House Speaker David Ralston, both Republicans, objected to this.
The version of the bill heading to Gov. Deal's desk would do enact the following provisions:

G/O Media may get a commission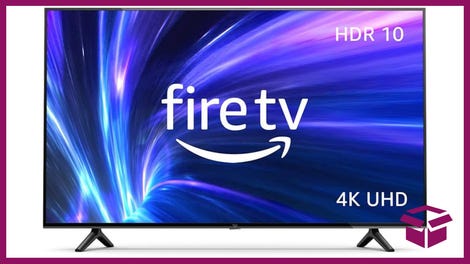 42% Off
Amazon Fire TV 50" 4K Smart TV
Religious leaders are not required to perform ceremonies against their beliefs.
No one is required to attend a ceremony they don't want to.
No business is required by the government to be open on Saturday or Sunday (?????).
Faith-based organizations are not required to lease facilities for events that are objectionable to their beliefs.
Faith-based organizations are not required to provide "social, educational, or charitable services" that violate their beliefs, unless it is following a voluntarily-entered government contract.
Faith-based organizations are not required to hire someone whose beliefs they do not like.
The government may not "substantially burden" a person's exercise of religion unless there is a compelling government interest.
At best, most of these provisions are unnecessary, repeating protections already enshrined in state and federal law. And if there's been a huge swarm of gay couples seeking to get married in churches and by ministers hostile to same-sex marriage, it's gone under-reported.
Also, whoever wrote this section could've just selected the "politely decline" option on the save-the-date for William and Joshua's wedding, rather than passing a law.
But like Indiana, there is potential that some of these protections could be used to discriminate against LGBT people. And according to the ACLU, Georgia has no statewide anti-discrimination protections on the basis of sexual orientation or gender identity and expression.
Many businesses, including large corporations with a presence in the Georgia, have opposed this bill throughout its long journey through the Georgia Legislature. The  Metro Atlanta Chamber restated its opposition to the revised law in a statement to the Journal-Constitution on Wednesday.
"This legislation is in conflict with the values of diversity and inclusion that Georgians hold dear and could erode Georgia's hard-earned status as the No. 1 state for business – and would harm our ability to create and keep jobs that Georgia families depend upon," the statement said.
The ball's in Gov. Deal's court.