PARK CITY, Kan. — "WE'RE BACK BITCHES," Dream announced via LED screen as the members of the Y2K-era girl group took the stage. I scrambled down the flight of stadium-seating stairs, more concerned about missing a moment of the performance than spilling the overpriced vodka soda I'd just spent 11 minutes waiting in line for. Thankfully, I did not trip.
That evening last Friday marked the opening night of the MY2K Tour: a nostalgia-driven concert series combining the talents of four throwback pop acts—Dream, Ryan Cabrera, O-Town, and headliner 98 Degrees—on a single marquee. After kicking off at the Hartman Arena in Park City, Kan., on July 8, the tour will snake its way across more than half of the continental United States before closing out at San Francisco's Warfield Theatre at the end of August.
By the time I got to my second-row center spot on the floor, I realized that there was no frenzied shitstorm swirling around me, meaning I'd lost my breath half-sprinting for nothing. Other than the couple dozen women cramming to the front of the aisles on either side of my section, I seemed to be one of the few people even moderately excited to watch Dream perform live on tour for the first time since September 21, 2001, when they closed out MTV's Total Request Live tour in Honolulu alongside 3LW, Nelly, and Destiny's Child.
When I tried to imagine what it would be like to watch the former Diddy protégées, now in their early thirties, perform "This Is Me," a song I became obsessed with in the fall of 2012 after hooking up with a guy in a long-term, open relationship, I naturally assumed that I'd be up on my feet, getting my whole, entire life. But as the four women hit their marks and nailed their harmonies in complementary leather and mesh ensembles—perhaps variations on the theme of Beyoncé's lacy peplum Rubin Singer from Super Bowl XLVII, or maybe Britney's peephole-laden Marco Marco bodysuit from last year's Billboard Music Awards—there I remained, sitting in my chair. Nostalgia might be a hell of a drug, but, for better or worse, my high was no match for reality.
G/O Media may get a commission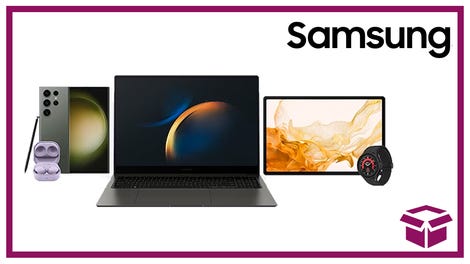 24 hour deals
Discover Samsung - Daily Deal
The MY2K Tour gets its name from a portmanteau of the words "my" and "Y2K," which, in case you didn't live through the technological armageddon that never ended up materializing 16 and a half years ago, stands for the "year 2000." It was during those early years of the new millennium that most of the performers on the MY2K roster experienced their greatest commercial success—the lone outlier being Ryan Cabrera, who didn't find fame until he began appearing on then-girlfriend Ashlee Simpson's eponymous MTV reality show in 2004. The music network (which, full disclosure, I used to work for) played a pivotal role in the other three acts' careers as well, boosting Dream, O-Town, and 98 Degrees with regular appearances on programs like Making the Video, the MTV Video Music Awards, and, of course, the era-defining payola operation daily music countdown that was Total Request Live.
The tour is the latest in a wave of nostalgia-driven concerts and casino residencies that have revitalized the waning, if not completely nonexistent, careers of pop music's chart-toppers past. New Kids on the Block teamed up with the Backstreet Boys in 2011 for the NKOTBSB Tour, and Boyz II Men added another prong to their boy band attack on 2013's The Package Tour. Britney Spears' ongoing Piece of Me residency at the Planet Hollywood Resort & Casino made Las Vegas residencies a respectable career choice for post-Gen X entertainers, at least depending on whom you ask. Since the non-traveling concert opened in late 2013, musical A-listers like Mariah Carey and Jennifer Lopez have followed suit. Even the Spice Girls are reuniting—or, at least Geri, Emma, and Mel B. are.
Of all the reasons why Dream, Ryan Cabrera, O-Town, and 98 Degrees are hitting the road once more, it's not a stretch to say that "making more money" is somewhere near the top of the list. I mean, just look at Britney Spears' Vegas residency. In 2014, E! News reported that the "Toxic" singer was earning nearly half a million dollars per night thanks to her Planet Hollywood gig, which has since been extended until at least 2017. Monetizing nostalgia is a lucrative venture; the onslaught of remakes and sequels spilling out of Hollywood, not to mention the terminal spread of BuzzFeed-style throwback content online, is proof enough of that. But viewing the MY2K Tour solely through such asshole-colored glasses ignores perhaps the most vital catalyst for last week's concert in the rural Wichita suburb: the fans.
"I'm here for O-Town," a woman named Pearl Turner told me during the second intermission of the night. "I watched Making the Band religiously when it first came out."
The suspiciously ageless Ryan Cabrera, whose spiky '04 'do had been streamlined down to pompadour undercut, had just closed down his set with "On the Way Down," prompting what felt like the entire 1,500-or-so-person audience to go scrambling up the cement staircases to get another drink before O-Town went on. My efforts to grab a second vodka soda were ultimately in vain, but I at least had the chance to speak with Pearl and her three friends about what drew them to the MY2K Tour. I inadvertently sparked a good-natured dispute between her and a friend, Kat Zidler, who swore allegiance to 98 Degrees. But Pearl held strong in her conviction that O-Town was, is, and always will be a superior boy band to the Lachey brothers, Jeff Timmons, and Justin Jeffre—although neither group is "better than Backstreet Boys," she conceded.
Kat will be pleased to know that I found plenty of 98 Degrees heads scattered throughout the arena, including three super nice dudes who invited me to join their MY2K tailgate in the parking lot outside. (Their three female friends were, for the record, firmly team Ryan Cabrera.) Despite the crowd's low energy during Dream's opening set, the screams were near deafening by the time the fortysomething daddies of 98 Degrees choreo'd their way onstage, serving second Bush administration in matching military fatigues.
But despite the audience's enthusiasm, many people in the crowd—who, on the whole, were mostly white, mostly female, and appeared to mostly range in age from their mid twenties to late thirties—insisted that they were not diehard fans of any of the pop acts present. In fact, when I asked one young woman whether she has thought about Ryan Cabrera at all over the past 10 years, she answered, "Absolutely not." This was moments after she had told me that she was super excited to see Mr. Cabrera, her onetime teenage idol, perform later that night. Few people said that they still make room for 98 Degrees or O-Town on their Spotify playlists. They usually only listen to "Liquid Dreams" et al unintentionally, by way of an automated Pandora or SiriusXM station. So, why had they all bought tickets for opening night? Like I said, nostalgia can be one hell of a drug.
All highs eventually wear off. No matter how many words to "He Loves U Not" or "All or Nothing" I surprised myself by remembering last Friday night, I couldn't forget about all the violence that had transpired in the days leading up to the concert. Earlier that week, Alton Sterling had been shot and killed by police officers in Baton Rouge, La., and Philando Castile had been shot and killed by police officers in Falcon Heights, Minn. And then, just before midnight Thursday night, a sniper shot and killed five Dallas cops at an otherwise peaceful Black Lives Matter demonstration against police brutality and the institutionalized racist violence that had robbed those two black men of their lives.
Heidi, a 98 Degrees fan from nearby Salinas whom I was seated next to, told me that she, too, could not forget about the endless stream of violence coursing through the news lately.
"[The concert] has been a nice distraction," she said, "[but] this stuff is heavy on the mind. I was kind of scared coming in here. I know it's just the MY2K concert, but, I mean, things are happening all over in places you would never expect anything to happen—even in Excel, not far from here, there was that shooting [in February]… But I feel happy. I feel safe right now… Honestly, I wouldn't be surprised if [one of the performers] says something about it onstage or takes a moment of silence. I would respect doing that."
But on Friday night, the only clear reference to the shooting I could discern came courtesy of the American flag flying at half-mast outside the Hartman Arena, easily the tallest object for miles in any direction. I assumed that the security protocol I had to go through upon entering the venue—a bag check, front-and-back wanding, a minimally invasive pat-down—included additional measures on account of the violence that had occurred only two states away. But when I asked a guard if security was always this tight, she surprised me by saying, "Yes, always." Ryan Cabrera did mention the Texas metropolis during his act but only to say that it's his hometown.
The silence about the shooting that had rocked the nation beyond the scoop-bowled arena's gray cement walls grew increasingly louder as the concert wore on. So much so that when O-Town's Erik-Michael Estrada came onstage in an Orlando Magic jersey, I assumed the universe must have been gaslighting me. But, no—my poptimism was not misplaced. Estrada was indeed trying to show his support for the 49 victims of the June 12 shooting at Orlando LGBTQ nightclub Pulse, as he made clear at the end of his band's set. "Orlando, we love you!" he yelled, grabbing the lettering stitched onto the front of his black-pinstriped jersey before running offstage to meet his bandmates. In a night of nostalgia-driven fantasy, that small dose of reality was much appreciated.
Bad at filling out bios seeks same.