For just a dollar, you can send your first message to Valerie, a 22-year-old college student living in southern Georgia. If she responds, you can spend more money to keep chatting. Maybe you'll discuss literature, her tattoos—or whatever is on your mind. Eventually, you might feel comfortable enough to request a video of her doing an exotic dance (one of her favorite hobbies). Every dollar you spend will help her pay her tuition.
Valerie is one of more than 10,000 female members on MyGirlFund, where men pay women to chat, send custom fetish photos and videos, and perform for them via live webcam. An agriculture student with a full course load, she decided to become a "camgirl" on the site when the two part-time jobs she held down weren't providing enough of an income.
"I used to be a manager of an adult store, so I guess I always played around with the idea of camming or any kind of sex work," Valerie told Fusion. (She requested that we not use her real name for privacy.) "My family has no money, so when this opportunity came up, I was like, 'Wow this is real, I can do this, I'm comfortable with it, it's really gonna make a difference.'"
MyGirlFund's founder and CEO, known only as Brian, estimates that around a third of the site's members are students. "I think college girls do really well on the site because they're intellectually stimulating, in a way," the site's director of development, who goes by Stefan, told Fusion. "It's about carrying on conversations—they might not be performers, but they are conversationalists."
With tuition costs and living expenses on the rise, thousands are turning to online sex work—MyGirlFund is hardly the only sex site helping college students make ends meet. But as students, these women face questions unique to their post in life: What if their professors find out? Could they get in trouble for using university internet? Will the work come back to haunt them when they apply for jobs down the road?
G/O Media may get a commission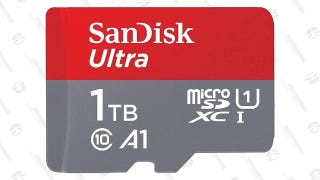 Save $70
SanDisk Ultra 1TB MicroSDXC Card
Valerie and the other college camgirls Fusion spoke with said they don't spend much time worrying about these things. "Would it go against school policy or something? Um, probably? But honestly, I don't care," Valerie said. (That said, she does take precautions to avoid, say, her dean seeing her naked. On MyGirlFund, users can "blacklist" entire states, meaning anyone who lives in Georgia must request permission before accessing her page.)

Cammers call the shots
If going into porn is like joining the corporate world, becoming a cam model is like building your own startup. It's being your own boss. You're in total control of the process, which for many women—especially college women—comes with benefits. There's low cost of entry. The hours are flexible. Sure, some models have agents (like famed college camgirl Kendra Sunderland), but for the most part, it's DIY sex work.
Which is not to say it's small time: As an industry, camming is valued at $1 billion a year, according to Mashable, making it more profitable than porn. This might explain why attracting an audience in the increasingly cramped world of sex cams can be tough. What makes your profile picture stand out among the thousands of others, available on an endless scroll, all looking for a click and a donation?
That competition is part of what drew Valerie to MyGirlFund. She likes that the site encourages cultivating online relationships and is conducive to conversation, not just sex. "I've looked into other [sites], like LiveJasmin or MyFreeCam, but I do more of the custom videos because you make a little more money, and I like that idea better," she told Fusion. "You get closer with your clients. I don't really do the live camming so much."
While live cam sessions between users are allowed on MyGirlFund, the site is more of a social network than an official "camming" site—one dedicated to broadcasting sex through a computer webcam. It also maintains set rules and guidelines. Men must pay $1 to send a message, and women keep increasing percentages of the profit, starting at 65 percent, for replying. All other prices—for things like photos, custom videos, and live cam sessions—are left completely up to the woman to decide.
When it comes to the performances themselves, too—unlike with shooting amateur porn or stripping—the women call all the shots. If a guy asks you to make a video where you masturbate while licking a dirty shoe (humiliation fetishes are a big part of MyGirlFund, according to Valerie), you can choose to try it out or ignore the request. The girls on the site never lose money for not responding.

Camming while cramming
In about a month as a MyGirlFund girl, Valerie has made a little more than $400. She makes a lot of money just replying to messages, she said—something she can do between classes. For the time invested, the payoff is pretty good.
Unlike time-consuming shift work, like bartending or retail, camming isn't tied to statewide minimum wages. "Working as a bartender and stuff, I bust my ass and I do not feel like I get compensated for it," Valerie told Fusion.
On her MyGirlFund page, she sets her own prices. Valerie charges $10 for the first minute of any custom videos she makes, and $5 for every additional minute after that. "Fifty-five bucks in 10 minutes isn't bad at all," she said.
And just like at the bar, Valerie has regulars on MyGirlFund—guys she's been messaging with since she joined. "I have this one guy who's really awesome, and all he wants to talk to me about is literature and my tattoos," she said. "He's requested videos every now and again, but usually we just talk about books and tattoos."
That kind of relationship isn't atypical on MyGirlFund. According to Valerie, a lot of the men on the site are just really into the idea of having the somewhat-undivided attention of a young, flirty co-ed. "They're just older—not like in a creepy way—they're just older, and they like the idea of talking to a young, 20-something-year-old," Valerie told Fusion. "Like she's in college and she's talking to me, her attention is on me."
For the few minutes it takes to reply to a message, or the hour or so it may take to film a video, her attention is on him. But at the same time, she can also be doing her homework or laundry—just like you might passively reply to texts or emails from friends while you walk around your house or neighborhood. But she gets paid every time she hits send.

'I'm learning more about myself every day'
That convenience—being able to work wherever you are, whenever you feel like it—is what drew Clara, a 27-year-old graduate student (who requested that we not use her real name), to MyGirlFund. Unlike Valerie, who was always curious about sex work, Clara doesn't see this as a longterm option. It's just an easy way to tide her over while she finishes her degree.
"I worked a full time job through most of college, until recently," Clara told Fusion. "I ran into health issues and wasn't able to work any longer, and this has been the only way I've been able to bring in money for doctors and paying for school."
The girls I spoke with from MyGirlFund didn't consider themselves to be particularly sexual before joining the site. Alex, an 18-year-old who goes to a private all-girls school in the Midwest (and also asked that we not use her real name), said she uses the site and personal video requests as a way to explore her own sexuality.
"I'm learning more about myself every day, like if a guy asks a request or something that I've never done or never heard, it's a learning experience, in a way," Alex told Fusion. "It's all just kind of fantasy to me—it's a way to express my fantasies and put them online with people I can share interests or kinks with."
It helps that MyGirlFund feels relatively private, compared to other sites—along with blacklisting entire states, members can block users. And unlike a camming site like Chaturbate, where anyone with a sex drive and an internet connection can anonymously watch you play with a sex toy, MyGirlFund users have a better chance at getting to know who they're sharing intimate moments with. Clara hopes to work as a marketing consultant when she finishes her Master's program, and said she definitely would not want a future employer to know about her sex work.
Although Alex and Valerie said they wouldn't really mind if their schools found out about their MyGirlFund work, we've seen what can happen when someone breaks the trust of a camgirl by posting a recorded video online.
Kendra Sunderland, "the most famous camgirl in the United States," was a student at Oregon State University before her infamous cam session went viral on Pornhub earlier this year. The video, which shows Sunderland strip teasing and masturbating in one of the school's libraries, got her arrested for public indecency, and banned from the campus for life.

What's the price?
Sunderland brought camming—college camming—into the spotlight like it never had been before. Of course, she has since embraced her role as America's college-dropout sweetheart. In interviews, she's said she always wanted to be one of the girls in the glossy centerfolds. And there's nothing wrong with that.
But she's also expressed dismay at how she was catapulted into the career she wanted. In an interview with The Daily Dot, Sunderland talked about losing friends, and having to own up to her camgirl career to family members. In an interview with Playboy, she said she heard from classmates that professors had heard about the video. If Sunderland should change her mind about her career path down the line, shedding her camgirl past may prove difficult for her.
Indeed, owning up to online sex work could amount to a big black spot on an otherwise pristine resume. Bachelor's degree, volunteer work, university club involvement—and camming? You might be okay with nude images making their way around the web, but most employers outside the adult entertainment industry aren't there yet.
But perhaps that will change. As more college students join sites like MyGirlFund, surely there will be more Kendra Sunderland stories. Maybe not with such extreme consequences, but narratives about hardworking college girls looking to make some extra money and turning to internet sex work to do it. Stories that will normalize it.
Perhaps online sex work will eventually become lumped in with other types of "experimentation" people do in college. At Alex's all-girls school, where boys her age are nonexistent, she likes being able to go home and access a world where she can talk to men and explore what she likes. She enjoys it so much, in fact, that she's begun to recommend it to friends. Already, women in her circle have joined MyGirlFund, she told Fusion.
For Alex, the same mindset that comes with moving to a new city and starting classes in a new place with new people has led her to explore online sex work. "It's a confidence boost," she said.
RELATED:  Fusion explores the increasingly diverse ways people are consuming – and producing –porn, from GIFs to live "camming" to teledildonics. Watch our original investigative documentary, Miami Porn: Sex Work in the Sunshine State, a look inside the world of South Florida's booming adult entertainment industry:
https://www.youtube.com/embed/KEKGKHdnAGI
Hannah Smothers is a reporter for Fusion's Sex & Life section, a Texpat, and a former homecoming princess.