Every single year, the Academy of Television Arts & Sciences presents its Emmy nominations announcement in a janky little YouTube livestream. Two actors stand behind a podium and read the list of nominees in major categories for the biggest awards in TV, blazing through the names seemingly as quickly as they possibly can. This is, without fail, incredibly boring. But not in 2016! Nu-uh. This year, the 68th Annual Primetime Emmy Awards, is a year for greatness.
This morning, Lauren Graham (of Gilmore Girls) and Anthony Anderson (of Black-ish) took the podium, and unlike previous presenters—who often look like they just rolled out of bed, which they probably did, given how early it is on the West Coast—these two were hyped. Anthony Anderson, in particular, should be given an Emmy just for making this boring-ass presentation a total delight.
"At no time in the past 70 years, has our industry achieved the vibrancy, relevancy, consistent creative excellence, and diversity we are experiencing at this very moment," Bruce Rosenblum, Chairman and CEO of the Television Academy, said in his opening statement, and boy, was he right. Anderson, for his part, was not only thrilled to be there, but ecstatic about the nominees.
To begin the ceremony, Anderson tells a story about how he learned of his first Emmy nomination while on a layover at London's Heathrow Airport because his phone blew up with notifications when he turned it on. "I don't mind being the last to know when an Emmy nomination is in the news," he said.
But today, Anderson got to announce his own nomination. And by announce, I mean scream it into the microphone. Watch it. There isn't a ton of pure joy in this world, but this is some right here:
On top of that, he yelled Empire matriarch Taraji P. Henson's nomination for Lead Actress in a Dramatic Series—shouting her out as a fellow alum of Howard University—and nearly lost his mind over the Lead Actress in a Comedy Series nod for his Black-ish costar Tracee Ellis Ross. He stumbled over Orphan Black star Tatiana Maslany's name, only to throw in a joke: "I went to public school in Compton, but I got this."
G/O Media may get a commission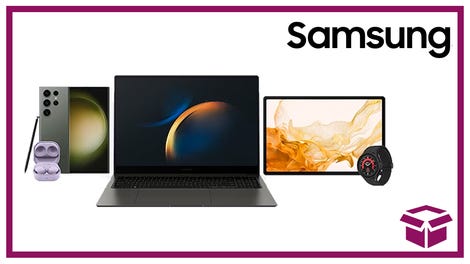 24 hour deals
Discover Samsung - Daily Deal
In fact, Anderson got excited about just about every nomination for a black actor, actress, or television show. And he had very good reason to—there were a lot of them. Near the end of the announcement, the chairman of the Television Academy returned to the stage to reveal some of the most exciting nominations.
"Let's bring back Bruce," Graham said.
And Anderson immediately asked, "Do we have to?"
Anderson is obviously having a blast. He's nominated for an Emmy. His co-workers are nominated for Emmys. The Emmys are suddenly, brilliantly diverse. And he's beaming.
Anderson is so full of joy that the minute Bruce returns, to announce the nominations for Outstanding Comedy Series, he can't help himself, cutting in to scream "Black-ish!"
Congrats to you, Anthony Anderson, on your nomination, your joy, and the Emmy we would like to award you for making this usually painfully dull nominations announcement clip a bright beacon of happiness.
Kelsey McKinney is a culture staff writer for Fusion.