The 2014 Golden Globes brought some fairly predictable wins: Cuarón for Best Director! Jennifer Lawrence for Best Supporting Actress! And there were some surprises, naturally – the near-complete robbery of 12 Years a Slave (with an eleventh hour best drama win!), Brooklyn 9-9's random win, and the many shades of lovable crazy in acceptance speeches by the over-50 set (Oh Jacqueline Bisset, Diane Keaton, Jon Voigt!).
But what about the red carpet lewks? Perhaps one of the biggest surprises is that E! is going to keep trying to making its Mani-Cam happen (even if it prompts Elisabeth Moss to shoot its camera the bird). Also, man-buns were worn completely sin pena. To a red carpet event! Let's look at three noticeable carpet trends:
DRAPERY MATCHING THE CARPET
When will people learn you don't wear red on a red carpet like you don't wear white to a wedding??? The *red* carpet is never going to surprisingly change color… so ladies (and gentlemen sometimes) stop blending into the backdrop. Except Amy Adams because she can do whatever she wants in that dress. – R.P.
G/O Media may get a commission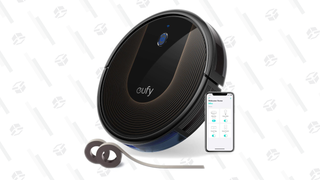 48% Off
Eufy BoostIQ RoboVac
Red says I'm a hot b*!#$ch. Red says, "I want to make a statement without making a fatal misstep by making that statement through tragic tailoring or embellishments." Red says, "I'm wearing a cape and it works because the monochrome scheme makes it fashion and anyways I'm beautiful so I can wear whatever I want." Red says, "I am Lupita Nyongo, Julia Louis Dreyfus, Bérénice Bejo, Edie Falco, Julie Delpy, Amy Adams, Emma Watson, Julie Bowen, or Kristen Connolly." Yep, any of them. – A.C.
#PREGPROBZ
I'm not one to encourage unprotected sex, but pregnancy is definitely trending so ladies, you know what to do. (Just kidding… but seriously Olivia Wilde looking sexy in a long-sleeved green sequined maxi dress puts us all to shame.) – R.P.
Don't even bother with any more magazine think pieces on this one. Women cannot, in fact, have it all. You can be beautiful and filthy rich and in a happy marriage and household-name-famous, and you will still look like a discarded, thrift-store afghan quilt when you attempt to dress. (Sorry, Drew Barrymore.) Or, you could be just really flawless and the most tweeted-about actress on TV today and all your #fans will just be like "Meh, fail," when you step out in shining-white Gucci. (So sad, Kerry Washington.)
Oh, geez, unless you're Olivia Wilde. In which case you are most of those things and you look sleek in green-snake Gucci and your pregnancy looks like "me after lunch." – A.C.
HAIR-DON'T?
A hair bun has been a prom/bat mitzvah/bridesmaid/awardshow staple since forever, and we saw several variations of it at this year's Golden Globes, but I think Jared Leto and that music guy who won pulled off the messy "oh, I have a fancy event tonight?" bun better then I could ever "not try" to pull that one off. – R.P.
There are a few different things a bun at a major awards ceremony can say. On women, it can mean, "Aw, I'm so cute and cool I don't really care what happens at this thing so whatever, pre-yoga sock-bun-head," a la Rashida Jones. Or, maybe, "I wanted an updo but I ran out of time and also don't care so here it is with some extra hair product." (Maybe that's what happened with Mila Kunis?)
On men, it says something different. Something along the lines of, "I'm older than 40 but I still welcome the adulation of fans who could be my daughters." Or, "It's not me, it's you." Or, "I have a Golden Globe now and life's really complicated and I just can't give you what you need." Or, "Hey, baby, I got this award thingy now and you know I told you I'm a serious artist who just can't deal with bourgeois relationship labels," or… Wait, getting a little personal there? Sorry. Not to throw shade at either Jared Leto or Alex Ebert or anything. – A.C.
Arielle Castillo is Fusion's culture editor, reporting on arts, music, culture, and subcultures from the streets on up. She's also a connoisseur of weird Florida, weightlifting, and cats.
Romina Puga is a pop culture reporter and producer for Fusion. You can find her on "Fusion Now," Fusion's daily TV updates, going over new movies, music, apps, and why D'Angelo is still sexy.