Uber and Lyft have trained us that it's okay to get into a stranger's car, even when that car is not painted yellow with a taxi company name on it. Now that we've crossed that hurdle, tech companies want us to do pay to do something that looks a lot more like hitchhiking.
Google's Waze wants to start monetizing car-pooling, and Uber has expressed interest in trying it out in New York. It would mean that the companies' users would be getting into the cars of strangers who both passengers and the company know little about.
The Wall Street Journal reports that some time this fall users of Google-owned Waze will be able to act as drivers or passengers for a new, paid carpooling service called Waze Rider. It began as a test program in May open to employees of a handful of companies including Google, Wal-Mart, and Adobe who could hail rides from any Waze user who signed up to be a driver.
Waze is a navigation app which Google bought in 2013, and which many drivers for ride-sharing services use to navigate. The company told the Journal it plans to operate the new, expanded system differently than Uber or other ride-sharing companies:

Unlike Uber and its crosstown San Francisco rival Lyft Inc., which each largely operate as on-demand taxi businesses, Waze wants to connect riders with drivers who are already headed in the same direction. The company has said it aims to make fares low enough to discourage drivers from operating as taxi drivers. Waze's current pilot program charges riders at most 54 cents a mile—less than most Uber and Lyft rides—and, for now, Google doesn't take a fee.
The company says it doesn't believe Waze drivers' income is taxable because it considers payments through its service effectively as money for gas.
G/O Media may get a commission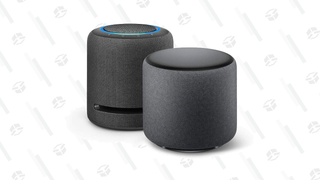 25% off - Prime Exclusive
Echo Studio + Echo Sub Bundle
Not to be outdone, Uber New York City General Manager Josh Mohrer published an op-ed on carpooling in Newsweek. With the looming 18-month shutdown of the L subway line, New York is worried that the Williamsburg bridge is going to be too swarmed with traffic to allow for a dedicated lane for an express commuter bus for L train riders. Mohrer proposes that New Yorkers embrace carpooling to reduce traffic on the bridge, and specifically embrace Commuting Together, "a new option Uber has been testing that matches drivers with riders who are traveling in the same direction."
Mohrer says that Uber wants to run a pilot program for Commuting Together in New York to reduce the estimated 11,000 cars that use the Williamsburg Bridge every day. But Mohrer sees regulation problems ahead that New York would need to address:

[I]f commuters crossing the Williamsburg bridge wanted to give their neighbor a ride, they would be required to first spend three months getting a license from the Taxi & Limousine Commission, get special license plates for their vehicle, spend thousands of dollars on special commercial insurance, and take over 40 hours of training classes. The benefit of a more flexible ridesharing system is that when people can push a button and get a ride in minutes, they are less likely to drive themselves; so instead of thirty people using their own cars, you have one car serving them all. In this case, getting a significant number of commuters to carpool into Manhattan simply will not work if its constricted by an extensive bureaucracy.
The base idea itself isn't particularly outlandish. Carpooling is a pretty established practice (duh), and something similar has been going on for some time. Slugging, which Forbes noted earlier this year emerged in the mid-70s in Washington D.C., involves waiting at a known location (a "slug-line") for a stranger who'll pick you and other passengers up on their commute. Money generally isn't exchanged, though a passenger might contribute to a toll. The idea is that by carpooling informally the driver gets to use HOV lanes, and get where they're going faster. But David LeBlanc, a veteran slugger, told Washingtonian in January that, fundamentally, slugging means not paying the driver.
But slugging is comparatively small scale, and like carpooling, often quite local. Uber and Google are proposing something similar, for pay, on a potentially massive scale.
What Mohrer is asking for would mean taking the values of an informal economy and applying them in a way that'd mean less regulation for a company that has had trouble dealing with safety issues for both passengers and drivers, and no real way to enforce their most serious safety policies where they do exist. It's closer to a paid version of hitchhiking. It also provides a hypothetical new supply of cheaper-to-pay drivers for a company with internal documents that showed drivers made less than Uber has said in the past, and whose current driver base in New York is upset at recent fare cuts.
It also makes Google and Uber competitors in the ride-share space. Although Google Ventures, the company's venture capital arm, invested in Uber in the past, the two have been at odds in a number of areas, not least (semi-)automated vehicles. Uber's had a decent couple months: it's testing automated cars in Pittsburgh, bought a much-talked-about automated truck company that emerged from Google, and put an end to a very expensive land war with Didi, its main competitor in China, through an investment announced in late July. But it's still losing a ton of money in pursuit of eventual profit: 1.27 billion in the first half of 2016 alone. So if Google is getting into car-pooling, Uber may feel that it needs to as well.
When Uber announced it was putting self-driving cars out to carry customers in Pittsburgh, CEO Travis Kalanick told Bloomberg, "If Uber wants to catch up to Google and be the leader in autonomy, we have to have the best minds…We have to have all the great minds."
The same logic almost certainly applies to carpooling, this is just another front in a larger fight.
Ethan Chiel is a reporter for Fusion, writing mostly about the internet and technology. You can (and should) email him at ethan.chiel@fusion.net