HENNICKER, N.H. — A Republican state lawmaker running for a congressional seat in New Hampshire sharply criticized a GOP colleague on Tuesday who described the Democratic incumbent in the race as "ugly as sin" and compared her to a drag queen.
"As women we shouldn't be subject to that type of criticism and judgment based solely on appearance," state Rep. Marilinda Garcia said in an interview with Fusion. "People ought to be concerned about the issues we support [and] the policies we are advocating for, and not what we look like."
State Rep. Steve Vaillancourt drew national headlines this week for writing sexist remarks about Democratic Rep. Ann McLane Kuster on a New Hampshire political blog.
"Does anyone not believe that Congressman Annie Kuster is as ugly as sin? And I hope I haven't offended sin," he wrote on NH Insider last Friday. "If looks really matter and if this race is at all close, give a decided edge to Marilinda Garcia."
Kuster said in a statement that Vaillancourt's comments "have no place in politics today" and show what she said was a hostile mindset toward women among Tea Party Republicans.
G/O Media may get a commission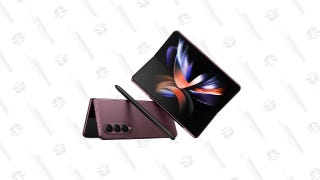 Save Up to $300
Galaxy Z Fold4
"From opposing the Violence Against Women Act, to wanting to ban abortion in all cases with no exception for the life of the mother, these comments exemplify an extreme Tea Party platform here in New Hampshire that hurts women and their families," the congresswoman said.
Rep. Ann McLane Kuster (D-N.H.), right.
Garcia, who serves alongside Vaillancourt in the state House of Representatives, rejected the notion that his writings were representative of all Republicans. She noted that one Democrat in the state legislature made sexist comments about her when she announced her campaign for Congress.
"I stood up for myself at that point and at this point I am willing to stand up for Representative Kuster," Garcia said. "She is on the other side of the aisle, but she doesn't deserve this and no woman does."
The Republican candidate said that she does not expect an apology from Vaillancourt, saying he has a history of incendiary comments. In 2012, he was forced to apologize for saying "Sieg Heil" repeatedly during a heated floor debate.
State Rep. Steve Vaillancourt videotapes a news conference at the attorney general's office in Concord, N.H., Thursday, March 1, 2007.
Vaillancourt is showing no remorse over his latest statements; he doubled down on his claims despite condemnation from Garcia and other Republicans.
In a subsequent blog post, the legislator mentions that two reporters asked if he continues to stand by what he wrote.
"If the reporters themselves don't see that, then they should question their own abilities to function," he wrote.
Garcia stopped short of calling for Vaillancourt's resignation.
"The way to move the ball forward isn't just with resignations but with a concerted effort to be sure that when we're making decisions about who we want to represent us, we do look at the substance and not just the appearance," she said.
Jordan Fabian is Fusion's politics editor, writing about campaigns, Congress, immigration, and more. When he's not working, you can find him at the ice rink or at home with his wife, Melissa.