Forget ISIS. The latest threat that Republicans fear coming across the southern border is the Ebola virus.
A growing number of GOP candidates running in key races in this November's midterm elections say President Obama's immigration enforcement policies are leaving the United States susceptible to an Ebola outbreak.
Scott Brown, the former Massachusetts senator running for Senate in New Hampshire, believes the government should "use every tool in the toolbox" to stop the spread of Ebola, including limiting flights from West Africa and blocking off the southern border.
"That's one of the reasons why I have been so adamant about closing our border, because people are coming in through normal channels," Brown said during an interview on local radio station WGIR, which was published on his YouTube channel Thursday. "Can you imagine what they can do through our porous border?"
Brown said that Ebola fears make it even more glaring that his opponent, Sen. Jeanne Shaheen (D), "voted not to secure the border."
G/O Media may get a commission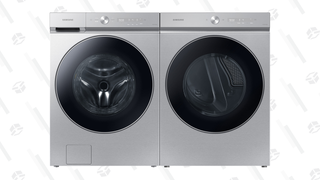 Get $500 back in credit
Last Chance: Samsung Bespoke AI Washer and Dryer Preorder
The Granite State Senate hopeful isn't the first candidate to raise these concerns. Thom Tillis, the GOP Senate nominee in North Carolina, said in a debate on Tuesday that the U.S. should seal its border with Mexico to prevent the spread of Ebola. Sen. Rand Paul (R-Ky.), a potential 2016 presidential candidate, said last week that the southern border is not secure enough to keep out Ebola.
Those claims were bolstered this week by the commander of the U.S. Southern Command, Marine Corps Gen. John F. Kelly. The general expressed worry about a possible Ebola outbreak in Central America or the Caribbean, which could trigger a wave of mass of migration to the U.S.
Fears about Ebola being spread by border crossers go as far back as July, when Rep. Phil Gingrey (R-Ga.) said that migrants from Central America could be carrying the virus, among other diseases.
Republicans' claims, both about Ebola and ISIS, appear to tap into voter concerns about government dysfunction and whether the Obama administration can keep the country safe. Fears about Ebola grew late last month after the first person in the U.S. was diagnosed with the virus. The patient, Thomas Eric Duncan, died on Wednesday.
As Bloomberg's Dave Weigel notes, the theme may be catching on in some conservative circles (check out these nifty Obama/Ebola bumper stickers). But doubts persist about the validity of the Ebola-border fears and whether they have swayed the broader public.
Fox News Sunday host Chris Wallace pressed Dr. Anthony Fauci, director of the National Institute of Allergy and Infectious Diseases, this weekend about "the chances that illegal immigrants are going to come over our porous southern border with Ebola."
"I wouldn't be worrying about illegal immigrants coming from southern borders when we have an issue right now with Ebola in West Africa," Fauci responded. "I mean, that's a hypothetical, that's very far-fetched."
There are no known cases of Ebola in Mexico, according to media reports.
Meanwhile, the federal government has been vocal about its Ebola response efforts. Two federal agencies—the Centers for Disease Control and Customs and Border Protection— announced Wednesday they are expanding airport screening of travelers from Guinea, Liberia, and Sierra-Leone, the countries hardest hit by Ebola.
While the media and politicians have played up Ebola fears, the public isn't as convinced. Almost six in 10 Americans say they either have a great deal or fair amount of confidence in the government's ability to prevent a major Ebola outbreak in the U.S., according to the Pew Research Center. Only 11 percent are very worried they or a family member will be exposed to the virus.
The proposals by Brown and Tillis to seal off the border may appeal to Republicans, who are more skeptical the government can stop Ebola from spreading. But it could fall flat with the broader public, which might find it impractical. According to a Bloomberg Government study, sealing off the border would take more than five years to complete and would cost $28 billion.
Jordan Fabian is Fusion's politics editor, writing about campaigns, Congress, immigration, and more. When he's not working, you can find him at the ice rink or at home with his wife, Melissa.