Steve Von Loor is the Republican nominee for Congress in North Carolina's 4th Congressional District. He also has a history of allegations of domestic violence against his ex-wife.

These incidents have recently surfaced amid a nasty legal battle between Von Loor and A.J. Robey, who's married to Von Loor's ex-wife, Maria Robey. That battle culminated in a bitter hearing in a courtroom in North Carolina's Wake County on Friday.
Because he ran unopposed in the May Republican primary race and has virtually no chance of beating longtime incumbent Congressman David Price, a Democrat, in a district that was gerrymandered by the North Carolina General Assembly to pack in as many liberal voters as possible, Von Loor's past has largely escaped media scrutiny. But he is the latest in a a growing number of politicians whose harassment and abuse (and complicity in either) of women has become public knowledge, and the ongoing legal fight makes it clear that this is not a settled question.
The allegations recently came to light when Von Loor filed a restraining order against A.J. Robey on June 11, alleging, among other things, that Robey slandered him by tweeting about Von Loor's "abusive behavior" and alleging that he owes over $10,000 in child support. Robey responded by filing a counterclaim alleging Von Loor had sent his 13-year-old son into Robey's home to steal a PTA directory for his campaign's use. On Friday afternoon, after a contentious hearing that lasted for over two hours, District Court Judge Dan Nagle dismissed both claims.
Von Loor's legal battles with his ex-wife and her family, however, go back years. On Nov. 12, 2010, according to court records obtained by Splinter, Von Loor's ex-wife filed a domestic violence order of protection in Durham County against Von Loor, who is also referred to in various legal filings—including the one which was just dismissed—as Steve Loor.
G/O Media may get a commission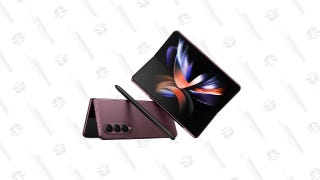 Save Up to $300
Galaxy Z Fold4
"In March or April, he pushed me very hard. I ended up on the floor, a friend who saw everything called the police, he was going to be arrested but I didn't press charges, [and the] officer let him go," Maria Robey wrote in her complaint. She also said that in November 2009, Von Loor threw a bottle of wine and broke a painting and threatened her with a knife. On Oct. 19, 2010, he slapped her in the face with separation papers, she said. And on October 21, she wrote, he threatened to break her car windows if he were to get arrested.
According to a criminal background check obtained through PeopleFinders, Von Loor was charged with assaulting a female and domestic criminal trespassing, both stemming from an incident on Nov. 11, 2010—one day before the protective order was filed. He was also charged with assault with a deadly weapon for an incident in October 2010. All three of these charges were dismissed in January 2011.
A Durham County judge granted a one-year order of protection to expire on Nov. 18, 2011, finding that Von Loor had committed acts of domestic violence against Maria Robey and that she was in danger of serious or immediate injury. A month later, according to a court order dated December 20, 2010, the protective order was set aside at Maria Robey's request "in order to meet with" Von Loor to "plan and discuss the welfare of their two children," Judge T.G. Foster wrote.
But during the hearing on Friday, which Splinter attended, A.J. Robey's lawyer, Robert Parrott, repeatedly attempted to ask Von Loor about the protective order issued against him.

"Have you committed acts of domestic violence against Mrs. Robey?" Parrott asked. "No," Von Loor responded. After Parrott asked if showing him a copy of the order would "refresh his recollection," Loor responded: "Sure."
"You just testified under oath that you have not committed acts of domestic violence against Mrs. Robey," Parrott said. "She wasn't Mrs. Robey then," Von Loor responded. "She was Mrs. Loor."
---
Von Loor, who was born in Alabama but raised in Ecuador, is currently making his first run for office as a Republican in a heavily-Democratic district. His origin story includes an anecdote about his mother telling him "about the great Ronald Reagan and the values of the American Dream." He says that he was able to bring his mother to the United States "after following the proper immigration procedure."

Despite his background, Von Loor is running on a platform that includes total support for Donald Trump's immigration policies, which includes the president's push for an end to family-based immigration. "As your Congressman, I will wholeheartedly stand with President Trump in all his efforts to secure our borders and make America safe again!" he wrote on his campaign website.
While Von Loor's campaign hasn't received much attention (according to FEC records, he has not filed a campaign finance report since the beginning of the race), he was endorsed by Dinesh D'Souza—who was best known for his racist and homophobic commentary before being pardoned by Trump—in a video from a Republican event in Wake County.

Von Loor also has a penchant for Islamophobia. As Babe.net reported in May, he posted a debunked Islamophobic meme on his personal Facebook page in January 2017, citing the hardline 1952 Immigration and Nationality Act to make the claim that "ISLAM IS NOT ALLOWED IN THE USA!" In a comment, he reportedly wrote: "Islam is trying to destroy America." Along with various thirsty comments Von Loor's personal Facebook account made on pictures posted by models, Babe also unearthed a comment he posted on a video by Nicholas J. Fuentes, the 19-year-old right wing nationalist Youtuber who attended the infamous Unite the Right rally in Charlottesville.
"Love your show," Von Loor reportedly wrote. "I would love to be interviewed by you."
This is not the first time male politicians in North Carolina have had their treatment of women brought to light. In 2015, Politico reported that Congressman Mark Meadows, the current chair of the far right House Freedom Caucus, continued paying his former chief of staff, Kenny West, for nearly three months after West was fired for sexually harassing female staffers in the office. Congressional records obtained by Politico at the time showed that staffers in Meadows' office came forward as early as fall 2014.
This isn't a problem limited to the state Republican Party, either. Earlier this year, several women came forward to allege that state Representative Duane Hall, a liberal Democrat from Raleigh and a rising star in the party, had sexually harassed them. Top Democrats called on Hall to resign. He refused—denying the allegations and calling into question the nonprofit status of NC Policy Watch, the website that broke the story—but was ultimately toppled in a May primary. When Hall gave his farewell speech on the floor of the House, the News & Observer reported last week, he got a standing ovation.
---
The legal fight between A.J. Robey and Steve Von Loor is just the latest in a long line of battles involving Von Loor, his ex-wife, and her family. Aside from the protective order issued against Von Loor, Maria Robey filed restraining orders against Von Loor in Durham County on at least two other occasions. One, in October 2010, was voluntarily dismissed on Oct. 27, 2010. In another, filed on July 29, 2013, Maria Robey alleged that Von Loor was threatening her and Robey, her then-fiancé; this order was dismissed on Sept. 5, 2013. And on Nov. 15, 2010, Von Loor filed his own restraining order against Maria Robey, which was dismissed on Nov. 18, 2010. (During the hearing on Friday, Parrott argued that this was evidence that Von Loor has a history of filing retaliatory lawsuits.)
Divorce records obtained by Splinter show that Von Loor and Maria Robey separated in November 2009 and were divorced in April 2011.
Ultimately, Von Loor testified under oath that he has no memory of assaulting his ex-wife. "I don't recollect this," he told Parrott in the hearing on Friday. "It's been how many years? Seven years? I don't remember."
It proved to be a moot point during the hearing, where Judge Nagle disallowed testimony about incidents of domestic violence that took place before 2016—five years after Maria Robey and Von Loor finalized their divorce.
"Although we were disappointed that we were prevented from introducing Mr. Loor's prior acts of domestic violence, particularly after he denied them, we respect the Court's ruling," Parrott said in a statement to Splinter, adding that the family hopes that Loor will "heed the court's admonition to stay away from the Robey residence."
However, during the hearing for the counter-claim—which was held immediately after Nagle dismissed Von Loor's claim—Maria Robey testified that she still fears for her safety.
"Are you afraid of Mr. Loor?" Parrott asked her.
"Yes. Every time he has a chance he comes to my car, he comes to my window...all of his emails are aggressive," Robey replied in court. "Most of the time I don't drop my kids at the [custodial exchange] point because he takes the opportunity, when he sees me alone, to come up to my car."
When Von Loor's attorney, Matthew Suczynski, cross-examined her, he asked if Von Loor had been physically abusive toward her since 2016. She testified that, while he had not, she lived in such fear of Von Loor that her husband now meets him at the exchange instead.
"I don't give him the chance [to be physically abusive]. He tries. He tries," she said. "Every time I have to exchange the kids it's always nerve-racking, because I don't know if anything is going to happen."

Von Loor's run for office was central to the claim and the counterclaim dismissed on Friday, which also included allegations that Loor had used his 13-year-son as a pawn and that A.J. Robey put him in a dangerous situation.
On Twitter, A.J. Robey alleged—among other things—that Von Loor sent one of his sons into his house to steal his school directory so Von Loor could use it for his campaign. Robey also alleged that Von Loor owed his wife more than $10,000 in unpaid child support. (In a court filing dated Nov. 15, 2016 and obtained by Splinter, Von Loor said he had fallen behind on his child support because his business had lost its biggest client.)

On June 11, Robey told Von Loor he was going to file a restraining order against him.
But Von Loor wound up suing Robey before Robey could get the chance to sue him.
"For the last three months the defendant has tormented me every time I have to pick up my children," Von Loor said in his complaint against Robey, filed on June 14. "On two occasions the defendant threw rocks at my car when dropping my children at their mother's residence. The defendant has constantly text[ed], email[ed], and use[d] social media with libelous attacks. He has insulted my wife, my children, and I for several occasions."
Von Loor also accused Robey of owning a set of "assault knives"—which he described as "fantasy knives" in open court. Robey denied owning the set of the weapons, and said instead that he only owned one, which he came in a gift box he got for his step-sons several years ago. Robey said during his testimony that Maria was the parent who decided to give the boy the knife.
During the hearing, Von Loor accused Robey of insulting his two-year-old child. "He called her a motherfucker when she was a baby," Von Loor said. Von Loor also accused Robey of sending a picture of a severed ear to his current wife while they were arguing via text message, an allegation Robey admitted to while on the stand. (Asked for comment, the Robeys directed Splinter to their attorney, Parrott.)
After he dismissed both cases, the judge admonished all of the parties involved for their behavior, particularly as an example being set for their children.

"You should not be sending the child into the house to be getting something for you. You think that's good parenting?" he asked Von Loor. "No," Von Loor responded sheepishly. "You're teaching all the wrong things," Nagle said. "And I can tell you that what these children have been observing is how they interpret how life is supposed to be."

---
Ahead of the hearing, Splinter repeatedly attempted to reach Von Loor for comment about his history of domestic violence by email, phone, and his campaign website's contact form. After the hearing, Von Loor said that he would provide no comment until a Monday press conference, which he said his campaign or attorney would email us the details of. In an email on Monday, Von Loor told Splinter his attorney would contact us with details of the press conference. (He has not yet done so, and Splinter has been unable to find any evidence that a press conference took place on Monday.)

On Saturday, however, Von Loor tweeted a link—via his official campaign account—asking his followers to sign a petition to stop "false allegations" of domestic violence.

The North Carolina Republican Party did not respond to an email requesting comment. Congressman David Price's campaign also declined to comment on his opponent's legal issues.
But Robert Howard, a spokesman for the North Carolina Democratic Party, called the allegations "disqualifying for anyone seeking public office."
"These are serious and disturbing allegations that sadly reveal Steve Von Loor's true character as someone with a history of violence towards women," Howard told Splinter. "Every voter regardless of party affiliation should reject this dangerous and violent candidate."
Update, 5:28 p.m. ET: Joel Gillison and Alex Baltzegar, Von Loor's campaign managers, both resigned on Twitter this afternoon. Both said they weren't aware of "recently-surfaced past events." We have reached out to both for comment and will update if and when they respond.
Update, July 12, 4:20 p.m. ET: On Thursday morning, Von Loor finally responded by posting a letter from his attorney, Matthew Suczynski, on Twitter.
Suczynski avoided any mention of the domestic violence restraining order issued against Von Loor in November 2010. He did, however, confirm what we reported on the details of the court hearing on Friday, as well as on a restraining order (which was dismissed) that Maria Robey filed in 2013.
Suczynski also said that the assault and trespassing charges filed against Von Loor in October and November of 2010—which we noted were dismissed in January 2011—were expunged from his record, and he accused both Splinter and PeopleFinders, the online records database used to access the information, of likely violating a North Carolina legal statute on criminal record expungement.
As noted in the original version of this story, Splinter repeatedly requested an interview with Von Loor to talk about the restraining order, the charges, and other information contained in the story. On the two occasions where we were able to get ahold of him, he declined to speak until a press conference with his attorney, which was originally supposed to be on Monday and which appears to have never happened.
On July 10, North Carolina GOP executive director Dallas Woodhouse told McClatchy that the party was not pushing Von Loor to get out of the race, saying that "custody issues and issues of marriage and divorce are often messy. A lot of people can relate to that….we are talking about something that was several years ago and not something we were aware of."