Louisiana Republican Representative Clay Higgins has been condemned by officials at the Auschwitz-Birkenau Memorial and Museum after releasing a short video of himself in one of the infamous concentration camp's gas chambers. (See, Sean Spicer? They're real!)
The rebuke comes in response to a five minute video, published on July 1 by the Lee Johnson Media YouTube channel, which describes itself as "A Conservative Podcast looking at America of Today!" In it, Higgins is seen standing in a gas chamber, declaring to the camera that: "This is why homeland security must be squared away [and] why our military must be invincible." (You'd think someone would have told Higgins that an "invincible" military and whipped-up fears about homeland security were both big drivers of the Holocaust, but apparently not.)
On Higgins' Facebook page, he reiterated the same sentiment, posting a link the video with the caption "Auschwitz. Homeland Security..." In another post, Higgins writes that his visit was "a stark reminder about the Independence we celebrate on July 4."
G/O Media may get a commission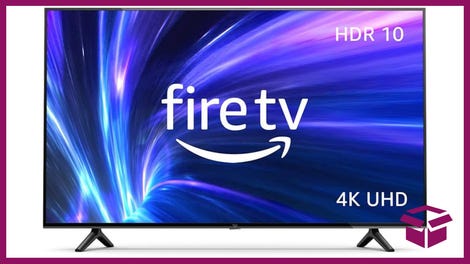 42% Off
Amazon Fire TV 50" 4K Smart TV
In addition to their Tweet criticizing Higgins' video, the Auschwitz-Birkenau Memorial and Museum sent a follow up message noting their specific instructions for visitors to maintain respectful silence while touring the gas chambers.
Higgins, who recently made a public call for Muslims to be hunted down and killed following the terrorist attack on the London Bridge, has yet to publicly address the museum's criticism. I've reached out to his office and will update this post if I get a reply.
Update, 5:01 PM: Rep Higgins' office emailed the following statement from the congressman:
I filmed the Auschwitz message with great humility. My intent was to offer a reverent homage to those who were murdered in Auschwitz and to remind the world that evil exists, that free nations must remember, and stand strong.

However, my message has caused pain to some whom I love and respect. For that, my own heart feels sorrow. Out of respect to any who may feel that my video posting was wrong or caused pain, I have retracted my video.

The atrocities that happened at Auschwitz were truly despicable, and we must never let history repeat itself in such a way. I have always stood with Israel and all Jewish people, and I always will. We live in a dangerous world, and massive forces of evil do indeed yet exist. We must all stand united against those evils. My Auschwitz video has been removed, and my sincere apology for any unintended pain is extended.