Republican Rep. Pete Sessions of Texas has some truly baffling thoughts about domestic violence and a spousal murder case, and he thought it might be good to say them out loud during a recent event while someone took a video of his response.
Talking Points Memo reports that, at an event earlier this summer, Sessions was asked by Jeff Morgan, a "social conservative activist," to support an end to no-fault divorce, which is obviously fucking insane. Sessions responded with a weird anecdote about a man who murdered his wife after being frustrated with the judicial system, which didn't really answer the question, but did make him look like a huge dumbass.
"Dallas County, a few years ago, went through a number of terrible shootings. And I gathered together, they were at the time Republican district judges, and I said 'guys, men, women, we've now had I think four or five shootings," Sessions recalled. "One of them was from a big-time guy in Highland Park [a wealthy Dallas suburb], who went and killed his wife, just gunned her down."
"And that was because the judge was unfair, and the woman was unfair. And she demanded something, and he was out," Sessions continued with a straight face. "And it was frustration. So now we go through the court system. And unfortunately lives have to be lost and there has to be tragedy. There now is a better system."
It's not clear what case Sessions was referring to, and his office declined to clarify when TPM reached out for comment, but the site did obtain a copy of the video. His tangent starts at 1:55:
Sesssions' office implied that he misspoke.
"Pete was discussing a terrible situation where an individual felt he had been railroaded by a court and then committed a horrific act of violence. By no means does Pete condone any act such as this," Sessions' chief of staff, Caroline Boothe, told TPM. "In fact, Pete met with judges and court officials to encourage them to address the frailties in the system and to do more to prevent this kind of tragic family violence from occurring."
G/O Media may get a commission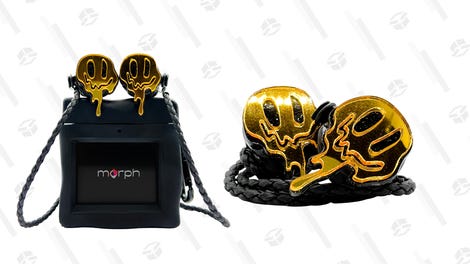 morph audio
Morph Earphones
As proof, Sessions' office sent TPM a supportive statement from the leader of the largest domestic violence shelter in Dallas. Patti Ransone, a local Republican anti-domestic violence activist, told the site that Sessions had "done nothing but try to help the community become more aware with domestic violence."
On a related note, Sessions voted against the reauthorization of the Violence Against Women Act in 2013.
Sessions is no small fry in the Republican caucus, serving as the chair of the powerful House Rules Committee, but he's in danger of losing his seat this year. Hillary Clinton won Sessions' district in 2016 by three points, but the Democrats failed to put up a challenger to Sessions in the race. On Wednesday, former President Barack Obama endorsed Colin Allred, Sessions' Democratic challenger this year and a former NFL player who was a lawyer in Obama's Department of Housing and Urban Development. The race is viewed as a tossup by outside observers.
Another thing Sessions has going against him: he's a massive asshole. At a town hall meeting last year with constituents who were understandably extremely pissed that Sessions wanted to take away their healthcare, Sessions responded to being booed with: "You don't know how to listen."