The Republican operative who attempted to obtain Hillary Clinton's deleted emails from Russian hackers then spoke about his effort to The Wall Street Journal, killed himself days after the interview according to a report from The Chicago Tribune.
Peter W. Smith, 81, was interview by The Journal on May 14 about his involvement in tracking down Clinton's deleted emails; ten days later he committed suicide in a Rochester, MN, hotel room predominately used by Mayo Clinic patients and relatives. According to The Tribune's report, Smith committed suicide because he was in "ill health" and his life insurance policy was expiring.
Smith left behind a suicide note emphasizing there was "no foul play" in his death, as reported by The Tribune:

In the note recovered by police, Smith apologized to authorities and said that "NO FOUL PLAY WHATSOEVER" was involved in his death. He wrote that he was taking his own life because of a "RECENT BAD TURN IN HEALTH SINCE JANUARY, 2017" and timing related "TO LIFE INSURANCE OF $5 MILLION EXPIRING."
Shane Harris, the reporter who interviewed Smith for The Journal, suspected that the GOP operative died of old age. Harris also told MSNBC "multiple attempts" to find out his cause of death were unsuccessful.
The Tribune obtained a detailed cause of death:

"However, the Chicago Tribune obtained a Minnesota state death record filed in Olmsted County that says Smith committed suicide in a hotel near the Mayo Clinic at 1:17 p.m. on Sunday, May 14. He was found with a bag over his head with a source of helium attached. A medical examiner's report gives the same account, without specifying the time, and a report from Rochester police further details his suicide."

G/O Media may get a commission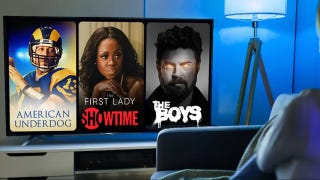 UNDER $1
99¢ Prime Video Channels
The Tribune also notes that Smith's suicide method is not unusual:
The Final Exit Network, a Florida-based nonprofit, provides information and support to people who suffer from a terminal illness and want to kill themselves. Fran Schindler, a volunteer with the group, noted that the best-selling book Final Exit, written by Derek Humphry in 1991 and revised several times since, explains in detail the helium gas method.
While Smith told The Journal he was not affiliated with President Trump's campaign, another source for The Journal's original story, Matt Tait, indicated that Lt. Gen. Mike Flynn, Kellyanne Conway, Steve Bannon, and Sam Clovis, may have been connected to Smith.
Tait, a UK-based security consultant was approached by Smith for assistance in obtaining Clinton's 30,000 missing emails; after The Journal's story was published he wrote a blog post entitled "That Time I Got Recruited to Collude with the Russians."
Tait said when Smith initially contacted him, he suggested he was connected to or was a Russian political operative.

Tait also provided The Journal with convincing evidence that Smith was linked to Flynn. According to Tait, Smith sent him an "opposition research" document written by KLS Research, an LLC set up "to avoid campaign reporting" about the alleged Russian hackers who had Clinton's missing emails. The document contained Flynn's name, as well as several of Trump's associates.