A press aide working with Republican Sen. Charles Grassley and the Senate Judiciary Committee on Brett Kavanaugh's Supreme Court nomination abruptly resigned after being questioned by NBC News about a past sexual harassment allegation.
Judiciary Committee Spokesman Taylor Foy told NBC that Garrett Ventry, 29, had resigned from the committee, where he had been tasked with handling the GOP's messaging about accusations by Christine Blasey Ford that Kavanaugh sexually assaulted her in the 1980s when the two were in high school.

Ventry also stepped down Saturday from his job at CRC Public Relations, a Republican PR firm whose clients include the Federalist Society.

According to Politico, CRC worked with Republican operative and Kavanaugh friend Ed Whelan to hype a "mistaken identity" conspiracy theory aimed at discrediting Ford's allegations. In a Twitter thread earlier this week, Whelan tried to pin the alleged assault on another man, but the effort soon fell apart under public scrutiny after Ford rejected the claim. Whelan eventually retracted the accusation and apologized.

CRC also had helped derail John Kerry's 2004 presidential campaign by working with Swift Boat Veterans on a smear campaign against the Massachusetts senator.

G/O Media may get a commission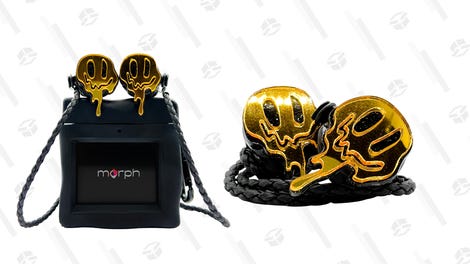 morph audio
Morph Earphones
According to NBC, the sexual harassment allegation against Ventry stems from 2017, when he worked for North Carolina House Majority Leader John Bell as a social media adviser. Bell fired Ventry after several months.

The report noted:

Sources familiar with the situation said Ventry was let go from Bell's office after parts of his résumé were found to have been embellished, and because he faced an accusation of sexual harassment from a female employee of the North Carolina General Assembly's Republican staff.

Ventry's termination was described to NBC News as unusually swift for an office with little overall turnover.
Ventry denied the allegations. His alleged accuser did not respond to requests by the news network for comment.

NBC said the embellishments on Ventry's résumé included citing a paid position with Sen. Marco Rubio's presidential campaign in North Carolina in 2016 when in fact Ventry had only been a volunteer.

Until this weekend, Ventry had been highly active on social media:

In his role as a spokesman for Grassley, Ventry regularly spoke to journalists and used his Twitter account to respond to the latest news developments around the Kavanaugh nomination. Ventry has also made TV appearances explaining the committee's actions.

"Chairman Grassley has led a very transparent process," Ventry told Fox News on Wednesday, saying the committee was intent on providing a "comfortable setting" for Ford to come forward and testify.
Ventry has since gone quiet on Twitter after the allegations were published.