As we inch closer to the midterms, Republicans are desperately trying to convince voters that they were actually in favor of the health care protections they have spent years trying to dismantle. Rep. Martha McSally, the Republican candidate for Senate in Arizona, has said over and over during her campaign that she voted to protect pre-existing conditions during her career in the House. In fact, she did nothing of the sort.

Now, there's a recording of McSally lying about this issue to one of her potential constituents. In a video released by Democratic PAC American Bridge, McSally is asked if she voted to take away coverage for pre-existing conditions in 2017.
"I did not," McSally says. "That's a lie. I voted to protect them."
G/O Media may get a commission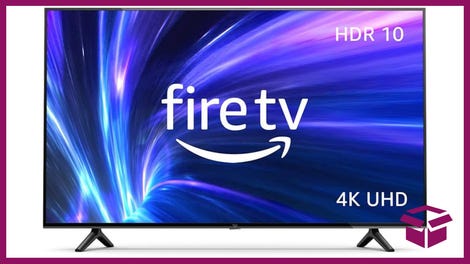 42% Off
Amazon Fire TV 50" 4K Smart TV
But she didn't. In 2017, McSally voted yes on the American Health Care Act, a bill pushed by the GOP to gut the Affordable Care Act.

HuffPost summarizes some of that bill's provisions (emphasis mine):
That bill would have let states request waivers so that insurers could charge higher premiums to people with pre-existing conditions whose coverage had lapsed.

The waivers would also have let insurers offer plans without maternity care, mental health, prescription coverage and seven other benefits that the ACA deems essential ― making coverage unattractive or flat-out unusable for people with serious medical problems.

The bill did offer states extra money to help take care of people who couldn't get insurance on their own, plus it had language stating that insurers couldn't discriminate against people with pre-existing medical conditions. But as countless independent experts pointed out, the language had no meaningful policy effect and the money wouldn't have been enough to take care of all the people who needed it.
The bill would also have cut funding to Medicaid. All in all, it could have resulted in 23 million fewer Americans with insurance, according to the Congressional Budget Office.
Republicans know that no matter how much they yell about death panels and socialism, it's hard to get people to part with their relatively affordable healthcare. So, they're doing the only thing they can do: lie. Once they're in office, they can just go back to blaming their constituents' healthcare problems on the Democrats. Everybody wins.