Welcome to WHAT NOW, a morning round-up of the news/fresh horrors that await you today.

Republican Senator Thad Cochran is insisting that he's not retiring, despite a string of troubling anecdotes reported by Politico that depict the lawmaker from Mississippi accidentally voting wrong until an aide corrected him, sunnily remarking on the "beautiful day outside" when asked about tax reform, and needing a staffer to remind him where the Senate chambers were.
Cochran has been suffering from health issues recently, and was absent from the Senate for nearly a month, recovering from urological issues. His hospitalization was infamously used by President Trump as an excuse for why the GOP healthcare bill failed. He returned to the chamber this week, but clearly something is still off.
During a hallway interview on Wednesday, the Politico reporters recounted how the 79-year-old (emphasis added throughout):
...appeared frail and at times disoriented during a brief hallway interview on Wednesday. He was unable to answer whether he would remain chairman of the Appropriations Committee, and at one point, needed a staffer to remind him where the Senate chamber is located. 'Don't believe everything you hear,' Cochran said in a low voice when asked whether he plans to retire after 44 years in office.
G/O Media may get a commission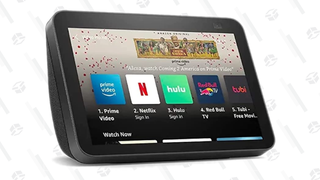 Asked if he would remain chairman of that committee, Cochran asked the reporters to repeat themselves, and apparently seemed confused about the premise.
'As chairman of the Appropriations Committee?' Cochran asked. Cochran had to be guided by staffers around a security checkpoint inside the Capitol. He started to walk into a first-floor room—though the Senate chamber is on the second floor. He was then ushered by an aide up to the Senate.
Things didn't improve once Cochran reached the floor for a lengthy voting session, when he kept trying to vote "yes" even as staffers and Republican floor leaders repeatedly tried to remind him that he actually meant "no":
"On one amendment, Cochran voted 'yes' despite being told by an aide to vote 'no.' The staffer tried to get the senator to switch his vote, but Cochran kept flashing the 'thumbs up' sign, even walking over to the clerk tallying the vote and doing so. GOP floor staffers repeatedly told him the leadership wanted a 'no' vote. Several more moments passed before Cochran realized he was voting the wrong way and then changed his vote."
This is sometimes what happens when people get very old. Cochran will be a critical vote if tax reform comes to a vote, so it's in the Republicans' best interest to keep him around, even if he goes full Reagan.
WHAT ELSE?
Donald Trump hasn't called at least nine of the 43 military families who've lost a service member in the line of duty during this presidency, those who were willing to address the matter with the Associated Press.

There's a purge underway at the Democratic National Committee of longtime staffers who backed Minnesota Representative Keith Ellison to run the organization, NBC News reports.
WHAT'S NEXT?
White supremacist Richard Spencer is slated to speak at the University of Florida in Gainesville this afternoon, after the governor declared a state of emergency ahead of the visit. The university is already on the hook for $500,000 worth of security, but this can't possibly go well.

For more news and opinions that get under your skin, follow Splinter on Facebook.