ADELANTO, California—The Obama administration's recent decision to close private prisons might not have the sweeping implications that many people initially thought.
Immigrant rights advocates say last week's Department of Justice memo calling for the shutdown of private prisons won't affect the vast majority of privately run state prisons and immigration detention centers built to hold more than 34,000 men, women and children.
While the DOJ memo is being celebrated an historic victory, the truth is the decision will only affect about 13 private prisons in the country, which is just 7% of the annual revenue for Corrections Corporation of America, the largest for-profit prison corporation in the U.S.
Most of the inmates held in those so-called "Criminal Alien Requirement" prisons are immigrants who could ultimately be transferred to another privately run detention center while they await deportation proceedings. That means many of the detainees could very likely end up in another bed owned by the same exact company. It would be a change of address without necessarily improving the conditions of the incarceration, or even the name of their jailer.
And with an increasing number of undocumented Central Americans fleeing violence in the Northern Triangle, the number of privately run immigrant detention centers in the U.S. could actually increase in the years ahead, giving the private prison companies a larger role—and a bigger profit margin— than ever before.
G/O Media may get a commission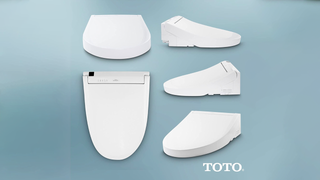 44% off
Toto Washlet Electronic Bidet Toilet Seat
That's why the private prison companies aren't sweating the move. Geo executives told financial analysts the DOJ announcement last week would have "little impact on profits," according to Fortune.
Since most of immigrants detained by the U.S. government are held in for-profit detention centers, even with the decision to close private prisons many of those people "will still end up being warehoused and profited off of by the exact same private prison companies," says Olga Tomchin,a staff attorney at National Day Laborer Organizing Network.
"For us it doesn't make sense," Luis Nolasco, a member of the Inland Empire Immigrant Youth Coalition, told Fusion. "Why wouldn't the DOJ extend that same decision to Homeland Security detention centers which have the same or worse conditions."
Sixty-two percent of all the beds in immigration detention centers in the U.S. are operated by the two largest publicly traded prison corporations, according to Grassroots Leadership, an organization that seeks to eliminate the private prison industry. Corrections Corporation of America (CCA) and The GEO Group run 90% of the largest immigration detention centers in the U.S. Overall, the private correctional facilities represented a $5 billion industry in 2014, with more than $600 million in profits, according to an NBC News analysis of data from the market research firm IBISWorld.
CCA's most recent spike in profits was "primarily attributable" to a new contract it has at the South Texas Family Residential Center that houses women and children—a facility built in Dilley to house the recent influx of mostly Central American families.
On Saturday, it was the Geo Group that came under scrutiny as a coalition of immigration activists in Southern California trekked two hours into the desert to protest in front of the remote Adelanto Detention Facility, a private prison that has been accused by the ACLU of providing substandard medical care.
Xochitl Paredes-Hernandez says her mother recently slipped and fell in the women's restroom in Adelanto Detention Facility and didn't get the immediate medical attention she requested.
"She had to wait and that's not right," said Paredes-Hernandez, who was at Saturday's protest. She said her mother, Xochitl Hernandez, has been detained Adelanto for six months fighting deportation to Mexico. She is currently being detained with a $60,000 bail.
A Fusion investigation found that officials across three presidential administrations created a new classification of federal prisons that allowed the 13 private prisons for immigrants to open and operate in the first place.
Activists are now calling on the Obama government to go further to prevent private prisons from rebranding themselves as private immigration detention facilities—after one such juvenile facility was forced to close in Jena, Louisiana but later reopened as an immigration detention center.
"Private companies today will be looking for new customers and the Obama administration needs to make sure that no other government agency will be their clients," said Jacinta Gonzalez of the #Not1More campaign in a statement sent to Fusion.
"Until private incarceration and detention is ended all together, these facilities will just be recycled between agencies," said Gonzalez.