One question lingers after reading a new excerpt from Grace Jones' upcoming autobiography: Who the fuck is "Doris"?
In a selection from I'll Never Write My Memoirs (out Sept. 24) published exclusively on Time Out London, the multitalented performer lays out a detailed critique of how subversion is often presented in the mainstream pop world. Don't be fooled by the reductive headline that boils her message down to "Grace Jones slays Rihanna, Miley, Gaga and Kanye…"; Ms. Jones has something to say.
Grace touches on how a singer might appropriate visual elements into their styling without necessarily understanding the full context of those aesthetics, citing Rihanna's Keith Haring-inspired "Rude Boy" video catsuit as an example. She also emphasizes that an artist cannot claim to represent "the outsider" if she is not actively trying to work outside of the system:

They dress up as though they are challenging the status quo, but by now, wearing those clothes, pulling those faces, revealing those tattoos and breasts, singing to those fractured, spastic, melting beats—that is the status quo.
Throughout the excerpt, she name-checks many of today's biggest acts: Nicki Minaj, Lady Gaga, Miley Cyrus, Sia, and Madonna, to name a few.
But Jones, who headlined Brooklyn's annual Afropunk Festival in August, opts to conceal the identity of one pop star in particular, referring to her as "Doris" throughout the piece. Doris allegedly tried to collaborate with Grace on multiple occasions, but the "Pull Up to the Bumper" singer refused:

[Doris] looks lost, like she is desperately trying to find the person she was when she started… I don't mind her dressing up, but when she started to dance like Madonna, almost immediately, copying someone else, it was like she had forgotten what it was about her that could be unique.
G/O Media may get a commission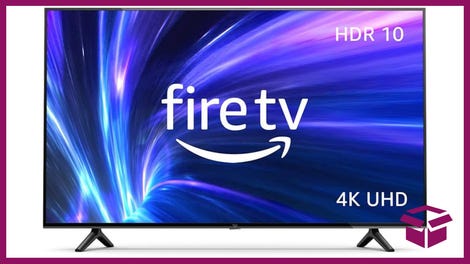 42% Off
Amazon Fire TV 50" 4K Smart TV
So, who is Grace Jones talking about? At the risk of my Twitter mentions, I would like to put forth the (somewhat obvious) theory that "Doris" is a pseudonym for Lady Gaga.
Anyone who halfway paid attention to Gaga's 2008/2009 come-up will remember how frequently the "Bad Romance" singer cited Jones as an idol of hers. In a 2009 profile, Rolling Stone's Brian Hiatt includes Grace on a list of Gaga's inspirations, alongside Andy Warhol, David Bowie, and Madonna. And it's not hard to imagine that many of her structured, broad-shouldered, cowl-necked looks from the Fame era were, at least in part, an homage to Ms. Jones.
Plus, Grace has gone on record saying that she turned down offers to collaborate with the younger pop star, just as she did with Doris. "Yes, [Gaga] did [ask to play with me], but I said no," Jones told The Guardian in 2010. "I'd just prefer to work with someone who is more original and someone who is not copying me, actually."
There is one piece of evidence that might contradict the whole "Gaga is Doris" theory, however. Jones concludes her memoir excerpt by naming both singers on a list of her pop star "pupils":

Listen to my advice; I have some experience. In a way, it is me being a teacher, which is what I wanted to be. I still feel I could go into teaching. What is teaching but passing on your knowledge to those who are at the beginning? Some people are born with that gift. With me, the teaching side morphed into the performing side. It's in there. And these are my pupils—Gaga, Madonna, Annie Lennox, Katy Perry, Rihanna, Miley, Kanye West, FKA [twigs] and… Doris.
Including both Gaga and Doris on this list would suggest that they are, in fact, two different people. Besides, it's not like Gaga—who released a jazz album with Tony Bennett in 2014 titled Cheek to Cheek—is the only pop singer to have ever drawn inspiration from the well of Grace Jones.
Beyoncé, for one, is never directly referred to by name in the piece, an absence that feels suspicious given the fact that even Rita Ora gets name-dropped. (Grace does mention Bey's alter ego, "Sasha Fierce," but that's it.) Could Our Lady of the Surprise Album Release be the Doris we seek?
Probably not. There's just so much more circumstantial evidence that points to Lady Gaga that I can overlook her being named alongside Doris on Jones' list of "pupils."
Speaking of which, let's go back to that list. I just can't get over the ellipsis after twigs' mention: "FKA [twigs] and… Doris." It's so deliberate! Why include it? Remember: This text does not come from an interview; it's from an autobiography that's going to be published by Simon & Schuster, meaning that it has, presumably, been edited to death. To me, the ellipsis suggests that Jones is pretending to have momentarily forgotten to maintain her Doris ruse, accidentally revealing qui exactly Doris est. Am I so wrong to suggest that Grace Jones knows exactly what the fuck she's doing?
Then again, Grace Jones' artpop Doris could mean anything.
Bad at filling out bios seeks same.