A grand jury has indicted Dallas police officer Christopher Hess on charges of aggravated assault for the shooting death of 21–year–old mother of two Genevive Dawes in January. It is the first time in 44 years that a district attorney has successfully indicted a Dallas police officer involved in a fatal shooting.
In the early morning hours of Jan. 18, Dawes was asleep with her boyfriend, Virgilio Rosales, in an SUV she recently had purchased. Dawes didn't know it, but the SUV had been reported stolen when she bought it.

According to local media reports, Dawes was frightened as officer Hess and his partner, Jason Kimpel, approached the vehicle at about 5 a.m., and she put the SUV in reverse. With the vehicle moving backward at about 5 miles per hour, Hess and his partner opened fire, shooting 14 times, according to a civil rights lawsuit filed by the family against the city and the officers involved.

Dawes was struck four times across her body and died later at a local hospital. According to the investigation, Hess fired 13 of the shots and Kimpel, who has not been charged, fired one. An arrest warrant was issued for Hess, police announced on Friday, adding that the officer would turn himself in on Monday. In the meantime, he has been placed on administrative leave.

G/O Media may get a commission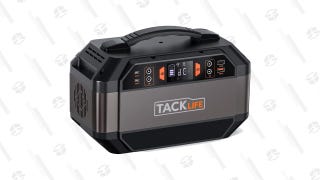 Tacklife Portable Solar Generator

In announcing the indictment, Dallas County District Attorney Faith Johnson said, "It matters not who you are…We are committed to making sure that justice is done for everyone," ABC News station WFAA reported.

Attorney Daryl Washington, who filed the civil rights suit on behalf of the family, said the family was hoping for murder charges to be brought against Hess, and they are calling for the police department to release body camera footage of the shooting. They also want charges to be filed on behalf of Rosales, who was injured in the shooting.

"We have an officer who made the decision, two officers who made the decision to start firing at an occupied vehicle. That is what the story should be about. And that was wrong," Washington said.

Washington also noted that while Hess was not charged with murder, he could face a prison sentence between five and 99 years if convicted of the felony aggravated assault charge, The Guardian reported.

Dallas police officers are banned from shooting at moving vehicles unless it is to prevent "imminent death or serious bodily harm," the newspaper added.

Genevive's mother, Mary Dawes, is now caring for her two granddaughters aged 2 and 1.

"He's going to take responsibility for what he did to my daughter," she said of Hess.