Amazon is a big, bad corporation. How big? Amazon alone accounted for more than half of online sales growth in 2016. How bad? It treats its workers like replaceable parts in a machine, which one day they will literally be. One worker said they "dread like a root canal appointment every Sunday night, knowing Monday morning is on its way."

Recently, Amazon announced it was seeking a city to house its new headquarters, where it promises it would invest $5 billion and create 50,000 jobs. As my colleague Hamilton Nolan pointed out, what they are really doing is asking cities to compete for this investment by offering bigger and better tax breaks and other incentives. They are trying to get cities to beg, as the president is fond of saying, like dogs.
Among the cities rolling on their backs and offering their soft tummies to Amazon for pats is New York City, the Greatest City on Earth. And it is doing so in a deeply thirsty and embarrassing way: it will light up several iconic city buildings in "Amazon Orange," a color previously known as "orange":
G/O Media may get a commission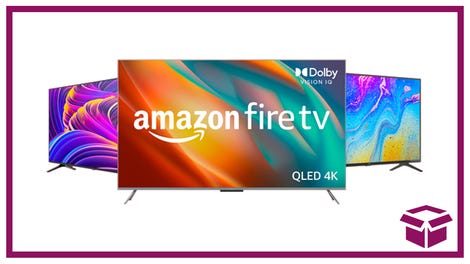 Ooh. stunning.
New Amazon Fire TVs
The Empire State Building has previously been lit up in orange this year for other non-Amazon occasions, such as "Gift of Life Marrow Registry and World Marrow Donor Day" on September 16 and "National Gun Violence Awareness Day" on June 1.
New York isn't the only city engaging Thirst Mode: Washington, D.C. Mayor Muriel Bowser kicked off her #ObviouslyDC campaign for the headquarters this week at a D.C. store that only sells locally-made products, which had to be some kind of sick joke?
This whole practice is weird and unseemly, and a sad reflection of how governance apparently has to work in America today. Giving a big tax break to a company in the hope that they follow through on a promise to provide jobs is deemed better than just spending that money directly on job creation, because Business is Good. Spending time and money and energy on publicity stunts to attract those businesses is great.
Amazon is hurtling towards monopoly status on the back of its huge capital flow. This squeezes smaller sellers and local economies. It is plunging money into new areas all the time: supermarkets, film and TV, food delivery, home services. It wants to sell you your TV, the guy to mount it on your wall, your latest binge-watch show, your popcorn or your delivery pizza, and your weird cheap couch blanket that arrives smelling of plastic and falls apart after the first wash. It wants to sell you everything you buy. It also wants to make America's mayors dance and sing for them along the way, and they're doing it.