A new video from the scene of a fiery New Jersey car crash appears to show a group of police officers kicking and dragging a man who, moments earlier, had escaped his vehicle while still on fire.

According to sources at the scene, the man targeted by the cops was an innocent victim.
Warning: graphic footage
The crash took place last Sunday night in Jersey City. The video above, which was given to Univision News (which, like Fusion, is owned by Univision), shows officers approaching the man with their guns drawn. At one point, an officer begins kicking the victim before two of the officers drag him by his feet into the middle of the road.
On the video, a man can be heard shouting, "Oh no. No! Help him out! Help him out," as the victim emerges from the flames.
It's possible the officers may have mistaken the victim for Leo Pinkston, a 48-year-old man whom officers had been chasing before he ran his vehicle into another car. Pinkston has been charged with aggravated assault and eluding arrest.
G/O Media may get a commission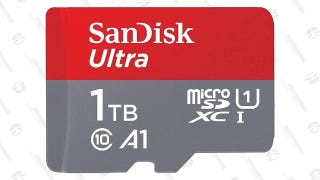 Save $75
SanDisk Ultra 1TB MicroSDXC Card
But the man the police beat, it turns out, is an entirely different, 28-year-old man. According to the Jersey Journal, which cited a friend of the victim's, he is still "fighting for his life with multiple broken bones and second- and third-degree burns."
From the Journal:
The victim also has a very swollen face, which his friend said he thought was odd. After seeing the latest video, he is certain the man is his friend.

"It was just shocking," he said. "I didn't think a fire could cause that."
The video has raised concerns not only about the apparent misidentification and the brutal way the victim was treated, but for the circumstances that led to the crash in the first place.
Jersey City Mayor Steven Fulop tweeted that he was trying to find out who the perpetrators were, and that criminal charges could follow.
I have reached out to the Jersey City Police Department and the mayor's office for comment, and will update this post if I hear back.
Update, 2:17 PM: City spokeswoman Jennifer Morrill responded to me via email with the following statement:
To be clear, we are working with the [Hudson County Prosecutor's Office] and are in the process of identifying the officers on this video. Once we clearly identify all the officers involved we will be seeking termination in addition to any possible criminal penalties in appropriate cases.